[ad_1]

Bitcoin Outlook: Neutral
Bitcoin

costs rebound to finish the week within the inexperienced

BTC/

USD

breaks $40,000 however

threat sentiment

re

mains susceptible to developments within the Russia, Ukraine warfare

Technical ranges maintain agency as value motion checks one other large spot of resistance
Visit the DailyFX Educational Center to find methods to commerce the influence of politics on international markets
Bitcoin Reclaims $40,000 But Big Levels Limit Gains
It's been a optimistic week for Bitcoin and different cryptocurrencies as a extra 'risk-on' sentiment supported the demand for equities and digital property, pushing costs increased. Although Bitcoin stays susceptible to elevated geopolitical dangers and elevated volatility, key technical ranges have offered agency ranges of help and resistance which proceed to carry each bulls and bears at bay.
However, after being buying and selling in a comparatively slender vary, the manager order signed by US President Joe Biden selling the accountable growth of digital property and the legalization of cryptocurrencies in Ukraine offered a extra optimistic outlook for the business, permitting Bitcoin bulls to drive costs again above the key psychological stage of $40,000 which stays as an enormous stage of help.
With value motion at the moment testing trendline resistance at round $41,000, bulls now must clear the following stage of resistance on the $43,352 Fibonacci stage (the 38.2% retracement of the April – May 2021 transfer) which can open the door for a transfer in direction of the 50-day MA (shifting common), at the moment holding at $46,188.
Bitcoin (BTC/USD) Weekly Chart
Source: Buying and sellingView, Chart by Tammy Da Costa
Meanwhile on the day by day time frame, BTC/USD is currently buying and selling above the 50-day MA (shifting common) which has fashioned a further layer of help, simply above the massive $40,000 mark. While the MACD (shifting common convergence/divergence) stays in unfavourable territory (a possible indication that the bearish development stays intact), a crossover beneath the zero line means that bears could also be dropping steam.
Bitcoin (BTC) Daily Chart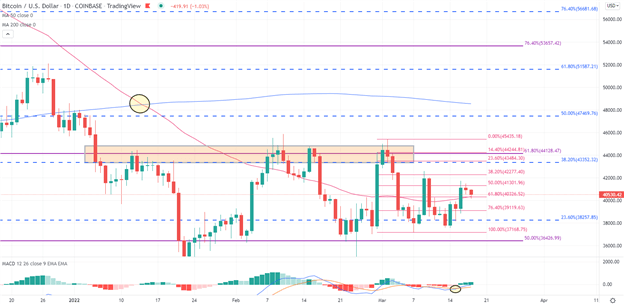 Source: Buying and sellingView, Chart by Tammy Da Costa
If bears handle to regain management of the development, a break beneath $40,000 might give rise to a retest of $38,257 (the 23.6% retracement of the above-mentioned transfer) with the following large spot of help holding at $36,000.
— Written by Tammy Da Costa, Analyst for DailyFX.com
Contact and comply with Tammy on Twitter: @Tams707
!perform(){perform errMsg(errCode,msg)var baseUrl,lastSepIndex,hasSymbol="undefined"!=typeof Symbol,hasSelf="undefined"!=typeof self,hasDocument="undefined"!=typeof doc,envGlobal=hasSelf?self:international;!hasDocument||(lastSepIndex=doc.querySelector("base[href]"))&&(baseUrl=lastSepIndex.href),baseUrl||"undefined"==typeof location||-1!==(lastSepIndex=(baseUrl=location.href.break up("https://www.dailyfx.com/forex/technical/article/fx_technical_weekly/2022/03/19/#")[0].split("?")[0]).lastIndexOf("/"))&&(baseUrl=baseUrl.slice(0,lastSepIndex+1));var backslashRegEx=//g;perform resolveIfNotPlainOrUrl(relUrl,parentUrl){if("/"===(relUrl=-1!==relUrl.indexOf("")?relUrl.change(backslashRegEx,"/"):relUrl)[0]&&"/"===relUrl[1])return parentUrl.slice(0,parentUrl.indexOf(":")+1)+relUrl;if("."===relUrl[0]&&("/"===relUrl[1]||"."===relUrl[1]&&("/"===relUrl[2]||2===relUrl.size&&(relUrl+="/"))||1===relUrl.size&&(relUrl+="/"))||"/"===relUrl[0]){var parentProtocol=parentUrl.slice(0,parentUrl.indexOf(":")+1),pathname="/"===parentUrl[parentProtocol.length+1]?"file:"!==parentProtocol?(pathname=parentUrl.slice(parentProtocol.size+2)).slice(pathname.indexOf("/")+1):parentUrl.slice(8):parentUrl.slice(parentProtocol.size+("/"===parentUrl[parentProtocol.length]));if("/"===relUrl[0])return parentUrl.slice(0,parentUrl.length-pathname.length-1)+relUrl;for(var segmented=pathname.slice(0,pathname.lastIndexOf("/")+1)+relUrl,output=[],segmentIndex=-1,i=0;ipkgName.size&&"/"!==pkg[pkg.length-1]?void targetWarning("W2″,pkgName,pkg,"ought to have a trailing '/'"):pkg+id.slice(pkgName.size)}}perform targetWarning(code,match,goal,msg){console.warn(errMsg(code,"Package goal "+msg+", resolving goal '"+goal+"' for "+match))}perform resolveImportMap(importMap,resolvedOrPlain,parentUrl){for(var scopes=importMap.scopes,scopeUrl=parentUrl&&getMatch(parentUrl,scopes);scopeUrl;){var packageResolution=applyPackages(resolvedOrPlain,scopes[scopeUrl]);if(packageResolution)return packageResolution;scopeUrl=getMatch(scopeUrl.slice(0,scopeUrl.lastIndexOf("/")),scopes)}return applyPackages(resolvedOrPlain,importMap.imports)||-1!==resolvedOrPlain.indexOf(":")&&resolvedOrPlain}var toStringTag=hasSymbol&&Symbol.toStringTag,REGISTRY=hasSymbol?Symbol():"@";perform SystemJS(){this[REGISTRY]={}}var lastRegister,systemJSPrototype=SystemJS.prototype;perform loadToId(load){return load.id}perform triggerOnload(loader,load,err,isErrSource){if(loader.onload(err,load.id,load.d&&load.d.map(loadToId),!!isErrSource),err)throw err}perform getOrCreateLoad(loader,id,firstParentUrl){var load=loader[REGISTRY][id];if(load)return load;var importerSetters=[],ns=Object.create(null);toStringTag&&Object.defineProperty(ns,toStringTag,{worth:"Module"});var instantiatePromise=Promise.resolve().then(perform(){return loader.instantiate(id,firstParentUrl)}).then(perform(registration){if(!registration)throw Error(errMsg(2,"Module "+id+" didn't instantiate"));var declared=registration[1](perform _export(identify,worth){var modified=!(load.h=!0);if("string"==typeof identify)identify in ns&&ns[name]===worth||(ns[name]=worth,modified=!0);else{for(var p in identify)identify&&identify.__esModule&&(ns.__esModule=identify.__esModule)}if(modified)for(var i=0;i<importerSetters.size;i++){var setter=importerSetters[i];setter&&setter(ns)}return worth},2===registration[1].size?{import:perform(importId){return loader.import(importId,id)},meta:loader.createContext(id)}:void 0);return load.e=declared.execute||perform(){},[registration[0],declared.setters||[]]},perform(err){throw load.e=null,load.er=err,triggerOnload(loader,load,err,!0),err}),hyperlinkPromise=instantiatePromise.then(perform(instantiation){return Promise.all(instantiation[0].map(perform(dep,i){var setter=instantiation[1][i];return Promise.resolve(loader.resolve(dep,id)).then(perform(depId){var depLoad=getOrCreateLoad(loader,depId,id);return Promise.resolve(depLoad.I).then(perform()setter(depLoad.n)),depLoad)})})).then(perform(depLoads){load.d=depLoads})});return load=loader[REGISTRY][id]={id:id,i:importerSetters,n:ns,I:instantiatePromise,L:hyperlinkPromise,h:!1,d:void 0,e:void 0,er:void 0,E:void 0,C:void 0,p:void 0}}systemJSPrototype.import=perform(id,parentUrl){var loader=this;return Promise.resolve(loader.prepareImport()).then(perform(){return loader.resolve(id,parentUrl)}).then(perform(load){load=getOrCreateLoad(loader,load);return load.C||perform topLevelLoad(loader,load){return load.C=perform instantiateAll(loader,load,father or mother,loaded){if(!loaded[load.id])return loaded[load.id]=!0,Promise.resolve(load.L).then(perform(){return load.p&&null!==load.p.e||(load.p=father or mother),Promise.all(load.d.map(perform(dep){return instantiateAll(loader,dep,father or mother,loaded)}))}).catch(perform(err){if(load.er)throw err;throw load.e=null,triggerOnload(loader,load,err,!1),err})}(loader,load,load,{}).then(perform(){return perform postOrderExec(loader,load,seen){if(seen[load.id])return;seen[load.id]=!0;if(!load.e){if(load.er)throw load.er;return load.E?load.E:void 0}var depLoadPromises;load.d.forEach(perform(depLoad){strivecatch(err){throw load.e=null,load.er=err,triggerOnload(loader,load,err,!1),err}});if(depLoadPromises)return Promise.all(depLoadPromises).then(doExec);return doExec();perform doExec(){strive{var execPromise=load.e.name(nullContext);if(execPromise)return execPromise=execPromise.then(perform(){load.C=load.n,load.E=null,triggerOnload(loader,load,null,!0)},perform(err){throw load.er=err,load.E=null,triggerOnload(loader,load,err,!0),err}),load.E=execPromise;load.C=load.n,load.L=load.I=void 0}catch(err){throw load.er=err}lastly{load.e=null,triggerOnload(loader,load,load.er,!0)}}}(loader,load,{})}).then(perform(){return load.n})}(loader,load)})},systemJSPrototype.createContext=perform(parentId){var loader=this;return{url:parentId,resolve:perform(id,parentUrl)}},systemJSPrototype.onload=perform(){},systemJSPrototype.register=perform(deps,declare){lastRegister=[deps,declare]},systemJSPrototype.getRegister=perform(){var _lastRegister=lastRegister;return lastRegister=void 0,_lastRegister};var nullContext=Object.freeze(Object.create(null));envGlobal.System=new SystemJS;var baseOrigin,lastAutoImportDeps,lastAutoImportTimeout,importMapPromise=Promise.resolve(),importMap={imports:{},scopes:{},depcache:{},integrity:{}},processFirst=hasDocument;perform processScripts(){[].forEach.name(doc.querySelectorAll("script"),perform(script){var fetchPromise;script.sp||("systemjs-module"===script.sort?(script.sp=!0,script.src&&System.import("import:"===script.src.slice(0,7)?script.src.slice(7):resolveUrl(script.src,baseUrl)).catch(perform(e){var occasion;return-1<e.message.indexOf("https://git.io/JvFET#3")&&((event=document.createEvent("Event")).initEvent("error",!1,!1),script.dispatchEvent(event)),Promise.reject(e)})):"systemjs-importmap"===script.type&&(script.sp=!0,fetchPromise=script.src?fetch(script.src,{integrity:script.integrity}).then(function(res){if(!res.ok)throw Error("Invalid status code: "+res.standing);return res.textual content()}).catch(perform(err){return err.message=errMsg("W4","Error fetching systemjs-import map "+script.src)+"n"+err.message,console.warn(err),"function"==typeof script.onerror&&script.onerror(),"{}"}):script.innerHTML,importMapPromise=importMapPromise.then(perform(){return fetchPromise}).then(perform(textual content){!perform extendImportMap(importMap,newMapTextual content,newMapUrl){var newMap={};strive{newMap=JSON.parse(newMapTextual content)}catch(err){console.warn(Error(errMsg("W5","systemjs-importmap contains invalid JSON")+"nn"+newMapTextual content+"n"))}!perform resolveAndComposeImportMap(json,baseUrl,outMap){for(var u in json.imports&&resolveAndComposePackages(json.imports,outMap.imports,baseUrl,outMap,null),json.scopes||{}){var resolvedScope=resolveUrl(u,baseUrl);resolveAndComposePackages(json.scopes[u],outMap.scopes[resolvedScope]||(outMap.scopes[resolvedScope]={}),baseUrl,outMap,resolvedScope)}for(u in json.depcache||{})outMap.depcache[resolveUrl(u,baseUrl)]=json.depcache[u];for(u in json.integrity||{})outMap.integrity[resolveUrl(u,baseUrl)]=json.integrity[u]}(newMap,newMapUrl,importMap)}(importMap,textual content,script.src||baseUrl)})))})}systemJSPrototype.prepareImport=perform(doProcessScripts)doProcessScripts)&&(processScripts(),processFirst=!1),importMapPromise,hasDocument&&(processScripts(),window.addEventListener("DOMContentLoaded",processScripts)),hasDocument&&(window.addEventListener("error",perform(evt){lastWindowErrorUrl=evt.filename,lastWindowError=evt.error}),baseOrigin=location.origin),systemJSPrototype.createScript=perform(url){var script=doc.createElement("script");script.async=!0,url.indexOf(baseOrigin+"/")&&(script.crossOrigin="anonymous");var integrity=importMap.integrity[url];return integrity&&(script.integrity=integrity),script.src=url,script};var lastWindowErrorUrl,lastWindowError,autoImportCandidates={},systemRegister=systemJSPrototype.register;systemJSPrototype.register=perform(deps,declare){var scripts,lastScript,loader;return hasDocument&&"loading"===doc.readyState&&"string"!=typeof deps?(scripts=doc.querySelectorAll("script[src]"),(lastScript=scripts[scripts.length-1])&&(lastScript.src,lastAutoImportDeps=deps,loader=this,lastAutoImportTimeout=setTimeout(perform(){autoImportCandidates[lastScript.src]=[deps,declare],loader.import(lastScript.src)}))):lastAutoImportDeps=void 0,systemRegister.name(this,deps,declare)},systemJSPrototype.instantiate=perform(url,firstParentUrl){var autoImportRegistration=autoImportCandidates[url];if(autoImportRegistration)return delete autoImportCandidates[url],autoImportRegistration;var loader=this;return new Promise(perform(resolve,reject){var script=systemJSPrototype.createScript(url);script.addEventListener("error",perform(){reject(Error(errMsg(3,"Error loading "+url+(firstParentUrl?" from "+firstParentUrl:""))))}),script.addEventListener("load",perform(){var register;doc.head.removeChild(script),lastWindowErrorUrl===url?reject(lastWindowError):((register=loader.getRegister())&&register[0]===lastAutoImportDeps&&clearTimeout(lastAutoImportTimeout),resolve(register))}),doc.head.appendChild(script)})},systemJSPrototype.shouldFetch=perform(){return!1},"undefined"!=typeof fetch&&(systemJSPrototype.fetch=fetch);var instantiate=systemJSPrototype.instantiate,jsContentTypeRegEx=/^(textual content|software)/(x-)?javascript(;|$)/;systemJSPrototype.instantiate=perform(url,father or mother){var loader=this;return this.shouldFetch(url)?this.fetch(url,{credentials:"same-origin",integrity:importMap.integrity[url]}).then(perform(res){if(!res.okay)throw Error(errMsg(7,res.standing+" "+res.statusText+", loading "+url+(father or mother?" from "+father or mother:"")));var content materialType=res.headers.get("content-type");if(!content materialType||!jsContentTypeRegEx.check(content materialType))throw Error(errMsg(4,'Unknown Content-Type "'+contentType+'", loading '+url+(father or mother?" from "+father or mother:"")));return res.textual content().then(perform(supply){return supply.indexOf("//# sourceURL=")<0&&(supply+="n//# sourceURL="+url),(0,eval)(supply),loader.getRegister()})}):instantiate.apply(this,arguments)},systemJSPrototype.resolve=perform(id,parentUrl){return resolveImportMap(importMap,resolveIfNotPlainOrUrl(id,parentUrl=parentUrl||baseUrl)||id,parentUrl)||perform throwUnresolved(id,parentUrl){throw Error(errMsg(8,"Unable to resolve bare specifier '"+id+(parentUrl?"' from "+parentUrl:"'")))}(id,parentUrl)};var systemInstantiate=systemJSPrototype.instantiate;systemJSPrototype.instantiate=perform(url,firstParentUrl){var preloads=importMap.depcache[url];if(preloads)for(var i=0;i<preloads.size;i++)getOrCreateLoad(this,this.resolve(preloads[i],url),url);return systemInstantiate.name(this,url,firstParentUrl)},hasSelf&&"function"==typeof importScripts&&(systemJSPrototype.instantiate=perform(url){var loader=this;return Promise.resolve().then(perform(){return importScripts(url),loader.getRegister()})}),perform(international){var firstGlobalProp,secondGlobalProp,lastGlobalProp,systemJSPrototype=international.System.constructor.prototype;var impt=systemJSPrototype.import;systemJSPrototype.import=perform(id,parentUrl){return perform noteGlobalProps()(firstGlobalProp?secondGlobalProp=secondGlobalProp(),impt.name(this,id,parentUrl)};var emptyInstantiation=[[],perform(){return{}}],getRegister=systemJSPrototype.getRegister;systemJSPrototype.getRegister=perform(){var globalProp=getRegister.name(this);if(globalProp)return globalProp;var globalExport,globalProp=perform getGlobalProp(useFirstGlobalProp){var foundLastProp,outcome,p,cnt=0;for(p in international)if(!shouldSkipProperty(p))return outcome}(this.firstGlobalProp);if(!globalProp)return emptyInstantiation;strive{globalExport=international[globalProp]}catch(e){return emptyInstantiation}return[[],perform(_export){return{execute:perform(){_export(globalExport),_export({default:globalExport,__useDefault:!0})}}}]};var isIE11="undefined"!=typeof navigator&&-1!==navigator.userAgent.indexOf("Trident");perform shouldSkipProperty(p){return!international.hasOwnProperty(p)||!isNaN(p)&&pnew Promise((resolve,reject)=>{var fulfilled=worth=>{strive{step(generator.subsequent(worth))}catch(e){reject(e)}},rejected=worth=>{strive{step(generator.throw(worth))}catch(e){reject(e)}},step=x=>x.executed?resolve(x.worth):Promise.resolve(x.worth).then(fulfilled,rejected);step((generator=generator.apply(__this,__arguments)).subsequent())});perform increase(errorConstructor,message,identify){throw new errorConstructor("Failed to execute 'requestSubmit' on 'HTMLFormElement': "+message+".",identify)}!perform(){if(void 0!==window.Reflect&&void 0!==window.customizedElements&&!window.customizedElements.polyfillWrapFlushCallback){const BuiltInHTMLElement=HTMLElement,wrapperForTheName_HTMLElement=perform HTMLElement2(){return Reflect.assemble(BuiltInHTMLElement,[],this.constructor)};window.HTMLElement=wrapperForTheName_HTMLElement,HTMLElement.prototype=BuiltInHTMLElement.prototype,HTMLElement.prototype.constructor=HTMLElement,Object.setPrototypeOf(HTMLElement,BuiltInHTMLElement)}}(),"perform"!=typeof(Turbo$1=HTMLFormElement.prototype).requestSubmit&&(Turbo$1.requestSubmit=perform(submitter){submitter?(perform validateSubmitter(submitter,kind)increase(TypeError,"parameter 1 shouldn't be of sort 'HTMLElement'"),"submit"==submitter.sort(submitter,this),submitter.click on()):((submitter=doc.createElement("enter")).sort="submit",submitter.hidden=!0,this.appendChild(submitter),submitter.click on(),this.removeChild(submitter))});const submittersByForm=new WeakMap;perform clickCaptured(submitter){submitter=perform findSubmitterFromClickTarget(candidate){const factor=candidate instanceof Element?candidate:candidate instanceof Node?candidate.father or motherElement:null;return"submit"==(null==(candidate=factor?factor.closest("enter, button"):null)?void 0:candidate.sort)?candidate:null}(submitter.goal);submitter&&submitter.kind&&submittersByForm.set(submitter.kind,submitter)}!perform(){if(!("submitter"in Event.prototype)){let prototype;if("SubmitEvent"in window&&/Apple Computer/.check(navigator.vendor))prototype=window.SubmitEvent.prototype;else{if("SubmitEvent"in window)return;prototype=window.Event.prototype}addEventListener("click on",clickCaptured,!0),Object.defineProperty(prototype,"submitter",{get(){if("submit"==this.sort&&this.goal instanceof HTMLFormElement)return submittersByForm.get(this.goal)}})}}(),(dfxGdprChecker=FrameLoadingStyle=FrameLoadingStyle||{}).keen="keen",dfxGdprChecker.lazy="lazy";class FrameElement extends HTMLElement{constructor(){tremendous(),this.loaded=Promise.resolve(),this.delegate=new FrameElement.delegateConstructor(this)}static get observedAttributes(){return["disabled","loading","src"]}connectedCallback(){this.delegate.join()}disconnectedCallback(){this.delegate.disconnect()}reload(){var{src}=this;this.src=null,this.src=src}attributeChangedCallback(identify){"loading"==identify?this.delegate.loadingStyleChanged():"src"==identify?this.delegate.sourceURLChanged():this.delegate.disabledChanged()}get src(){return this.getAttribute("src")}set src(worth){worth?this.setAttribute("src",worth):this.removeAttribute("src")}get loading(){return perform bodyLoadingStyleFromString(fashion){return"lazy"!==fashion.toLowerCase()?FrameLoadingStyle.keen:FrameLoadingStyle.lazy}(this.getAttribute("loading")||"")}set loading(worth){worth?this.setAttribute("loading",worth):this.removeAttribute("loading")}get disabled(){return this.hasAttribute("disabled")}set disabled(worth){worth?this.setAttribute("disabled",""):this.removeAttribute("disabled")}get autoscroll(){return this.hasAttribute("autoscroll")}set autoscroll(worth){worth?this.setAttribute("autoscroll",""):this.removeAttribute("autoscroll")}get full(){return!this.delegate.isLoading}get isActive(){return this.ownerDocument===doc&&!this.isPreview}get isPreview()}perform expandURL(locatable){return new URL(locatable.toString(),doc.baseURI)}perform getAnchor(anchorMatch){return anchorMatch.hash?anchorMatch.hash.slice(1):(anchorMatch=anchorMatch.href.match(/#(.*)$/))?anchorMatch[1]:void 0}perform getAction(kind,submitter)kind.motion)perform getExtension(url){return(perform getLastPathComponent(url){return perform getPathComponents(url){return url.pathname.break up("/").slice(1)}(url).slice(-1)[0]}(url).match(/.[^.]*$/)||[])[0]||""}perform isPrefixedBy(baseURL,prefix){prefix=perform getPrefix(url){return perform addTrailingSlash(worth){return worth.endsWith("/")?worth:worth+"/"}(url.origin+url.pathname)}(prefix);return baseURL.href===expandURL(prefix).href||baseURL.href.beginsWith(prefix)}perform locationIsVisitin a position(location2,rootLocation){return isPrefixedBy(location2,rootLocation)&&perform isHTML(url)html(location2)}perform getRequestURL(url){var anchor=getAnchor(url);return null!=anchor?url.href.slice(0,-(anchor.size+1)):url.href}perform toCacheKey(url){return getRequestURL(url)}class FetchResponse{constructor(response){this.response=response}get succeeded(){return this.response.okay}get failed(){return!this.succeeded}get shopperError(){return 400<=this.statusCode&&this.statusCode<=499}get serverError(){return 500<=this.statusCode&&this.statusCoderequestAnimationFrame(()=>resolve()))}perform parseHTMLDocument(html=""){return(new DOMParser).parseFromString(html,"textual content/html")}perform unindent(strings,…match){const strains=perform interpolate(strings,values){return strings.cut back((outcome,string,i)=>{return outcome+string+(null==values[i]?"":values[i])},"")}(strings,match).change(/^n/,"").break up("n");match=strains[0].match(/^s+/);const indent=match?match[0].size:0;return strains.map(line=>line.slice(indent)).be part of("n")}perform uuid(){return Array.apply(null,{size:36}).map((_,i)=>8==i||13==i||18==i||23==i?"-":14==i?"4":(19==i?Math.flooring(4*Math.random())+8:Math.flooring(15*Math.random())).toString(16)).be part of("")}perform getAttribute(attributeName,…components){for(const worth of components.map(factor=>null==factor?void 0:factor.getAttribute(attributeName)))if("string"==typeof worth)return worth;return null}perform markAsBusy(…components){for(const factor of components)"turbo-frame"==factor.localName&&factor.setAttribute("busy",""),factor.setAttribute("aria-busy","true")}perform clearBusyState(…components){for(const factor of components)"turbo-frame"==factor.localName&&factor.removeAttribute("busy"),factor.removeAttribute("aria-busy")}(Turbo$1=FetchMethod=FetchMethod||{})[Turbo$1.get=0]="get",Turbo$1[Turbo$1.post=1]="publish",Turbo$1[Turbo$1.put=2]="put",Turbo$1[Turbo$1.patch=3]="patch",Turbo$1[Turbo$1.delete=4]="delete";class FetchRequest{constructor(delegate,technique,location2,physique=new URLSearchParams,goal=null){this.abortController=new AbortController,this.resolveRequestPromise=worth=>{},this.delegate=delegate,this.technique=technique,this.headers=this.defaultHeaders,this.physique=physique,this.url=location2,this.goal=goal}get location(){return this.url}get params(){return this.url.searchParams}get entries(){return this.physique?Array.from(this.physique.entries()):[]}cancel(){this.abortController.abort()}carry out(){return __async$4(this,null,perform*(){var _a,_b,{fetchOptions}=this;null!==(_b=(_a=this.delegate).prepareHeadersForRequest)&&void 0!==_b&&_b.name(_a,this.headers,this),yield this.allowRequestToBeIntercepted(fetchOptions);strive{this.delegate.requestStarted(this);var response=yield fetch(this.url.href,fetchOptions);return yield this.obtain(response)}catch(error){if("AbortError"!==error.identify)throw this.delegate.requestErrored(this,error),error}lastly{this.delegate.requestFinished(this)}})}obtain(response){return __async$4(this,null,perform*(){var fetchResponse=new FetchResponse(response);return dispatch("turbo:before-fetch-response",{cancelable:!0,element:{fetchResponse:fetchResponse},goal:this.goal}).defaultPrevented?this.delegate.requestPreventedHandlingResponse(this,fetchResponse):fetchResponse.succeeded?this.delegate.requestSucceededWithResponse(this,fetchResponse):this.delegate.requestFailedWithResponse(this,fetchResponse),fetchResponse})}get fetchOptions(){var _a;return}get defaultHeaders(){return{Accept:"textual content/html, software/xhtml+xml"}}get isIdempotent(){return this.technique==FetchMethod.get}get abortSignal(){return this.abortController.sign}allowRequestToBeIntercepted(fetchOptions){return __async$4(this,null,perform*(){var requestInterception=new Promise(resolve=>this.resolveRequestPromise=resolve);dispatch("turbo:before-fetch-request",{cancelable:!0,element:{fetchOptions:fetchOptions,url:this.url,resume:this.resolveRequestPromise},goal:this.goal}).defaultPrevented&&(yield requestInterception)})}}class AppearanceObserver{constructor(delegate,factor){this.began=!1,this.intersect=lastEntry=>{lastEntry=lastEntry.slice(-1)[0];null!=lastEntry&&lastEntry.isIntersecting&&this.delegate.elementAppearedInViewport(this.factor)},this.delegate=delegate,this.factor=factor,this.intersectionObserver=new IntersectionObserver(this.intersect)}begin()(this.began=!0,this.intersectionObserver.observe(this.factor))cease(){this.began&&(this.began=!1,this.intersectionObserver.unobserve(this.factor))}}class StreamMessage{constructor(html){this.templateElement=doc.createElement("template"),this.templateElement.innerHTML=html}static wrap(message){return"string"==typeof message?new this(message):message}get fragment(){const fragment=doc.createDocumentFragment();for(const factor of this.overseasElements)fragment.appendChild(doc.importNode(factor,!0));return fragment}get overseasElements(){return this.templateChildren.cut back((streamElements,youngster)=>"turbo-stream"==youngster.tagName.toLowerCase()?[…streamElements,child]:streamElements,[])}get templateChildren(){return Array.from(this.templateElement.content material.youngsters)}}StreamMessage.content materialType="textual content/vnd.turbo-stream.html",(dfxGdprChecker=FormSubmissionState=FormSubmissionState||{})[dfxGdprChecker.initialized=0]="initialized",dfxGdprChecker[dfxGdprChecker.requesting=1]="requesting",dfxGdprChecker[dfxGdprChecker.waiting=2]="ready",dfxGdprChecker[dfxGdprChecker.receiving=3]="receiving",dfxGdprChecker[dfxGdprChecker.stopping=4]="stopping",dfxGdprChecker[dfxGdprChecker.stopped=5]="stopped",(Turbo$1=FormEnctype=FormEnctype||{}).urlEncoded="software/x-www-form-urlencoded",Turbo$1.multipart="multipart/form-data",Turbo$1.plain="textual content/plain";class FormSubmission{constructor(delegate,kindElement,submitter,mustRedirect=!1){this.state=FormSubmissionState.initialized,this.delegate=delegate,this.kindElement=kindElement,this.submitter=submitter,this.kindData=perform constructFormData(kindElement,submitter){const kindData=new FormData(kindElement),identify=null==submitter?void 0:submitter.getAttribute("identify"),worth=null==submitter?void 0:submitter.getAttribute("worth");identify&&null!=worth&&kindData.get(identify)!=worth&&kindData.append(identify,worth);return kindData}(kindElement,submitter),this.location=expandURL(this.motion),this.technique==FetchMethod.get&&perform mergeFormDataEntries(url,entries)(this.location,[…this.body.entries()]),this.fetchRequest=new FetchRequest(this,this.technique,this.location,this.physique,this.kindElement),this.mustRedirect=mustRedirect}static confirmMethod(message,factor){return affirm(message)}get technique(){var _a;const technique=(null===(_a=this.submitter)||void 0===_a?void 0:_a.getAttribute("formmethod"))||this.kindElement.getAttribute("technique")||"";return perform fetchMethodFromString(technique){change(technique.toLowerCase()){case"get":return FetchMethod.get;case"publish":return FetchMethod.publish;case"put":return FetchMethod.put;case"patch":return FetchMethod.patch;case"delete":return FetchMethod.delete}}(technique.toLowerCase())||FetchMethod.get}get motion()get physique()this.technique==FetchMethod.get?new URLSearchParams(this.stringFormData):this.kindDataget enctype(){var _a;return perform formEnctypeFromString(encoding){change(encoding.toLowerCase()){case FormEnctype.multipart:return FormEnctype.multipart;case FormEnctype.plain:return FormEnctype.plain;default:return FormEnctype.urlEncoded}}((null===(_a=this.submitter)||void 0===_a?void 0:_a.getAttribute("formenctype"))||this.kindElement.enctype)}get isIdempotent(){return this.fetchRequest.isIdempotent}get stringFormData(){return[…this.formData].cut back((entries,[name,value])=>entries.concat("string"==typeof worth?[[name,value]]:[]),[])}get confirmationMessage(){return this.kindElement.getAttribute("data-turbo-confirm")}get needsConfirmation(){return null!==this.confirmationMessage}begin(){return __async$4(this,null,perform*(){var{initialized,requesting}=FormSubmissionState;if(this.needsConfirmation&&!FormSubmission.confirmMethod(this.confirmationMessage,this.kindElement))return;if(this.state==initialized)return this.state=requesting,this.fetchRequest.carry out()})}cease(){var{stopping,stopped}=FormSubmissionState;if(this.state!=stopping&&this.state!=stopped)return this.state=stopping,this.fetchRequest.cancel(),!0}prepareHeadersForRequest(headers,token){token.isIdempotent||((token=perform getCookieValue(cookieName){if(null!=cookieName){const cookies=doc.cookie?doc.cookie.break up("; "):[],cookie=cookies.discover(cookie2=>cookie2.beginsWith(cookieName));if(cookie){var worth=cookie.break up("=").slice(1).be part of("=");return worth?decodeURIComponent(worth):void 0}}}(getMetaContent("csrf-param"))||getMetaContent("csrf-token"))&&(headers["X-CSRF-Token"]=token),headers.Accept=[StreamMessage.contentType,headers.Accept].be part of(", "))}requestStarted(request){var _a;this.state=FormSubmissionState.ready,null!==(_a=this.submitter)&&void 0!==_a&&_a.setAttribute("disabled",""),dispatch("turbo:submit-start",{goal:this.kindElement,element:{formSubmission:this}}),this.delegate.formSubmissionStarted(this)}requestPreventedHandlingResponse(request,response){this.outcome={success:response.succeeded,fetchResponse:response}}requestSucceededWithResponse(error,response){response.shopperError||response.serverError?this.delegate.formSubmissionFailedWithResponse(this,response):this.requestMustRedirect(error)&&perform responseSucceededWithoutRedirect(response){return 200==response.statusCode&&!response.redirected}(response)?(error=new Error("Form responses should redirect to a different location"),this.delegate.formSubmissionErrored(this,error)):(this.state=FormSubmissionState.receiving,this.outcome={success:!0,fetchResponse:response},this.delegate.formSubmissionSucceededWithResponse(this,response))}requestFailedWithResponse(request,response){this.outcome={success:!1,fetchResponse:response},this.delegate.formSubmissionFailedWithResponse(this,response)}requestErrored(request,error){this.outcome={success:!1,error:error},this.delegate.formSubmissionErrored(this,error)}requestFinished(request){var _a;this.state=FormSubmissionState.stopped,null!==(_a=this.submitter)&&void 0!==_a&&_a.removeAttribute("disabled"),dispatch("turbo:submit-end",{goal:this.kindElement,element:Object.assign({formSubmission:this},this.outcome)}),this.delegate.formSubmissionFinished(this)}requestMustRedirect(request){return!request.isIdempotent&&this.mustRedirect}}perform getMetaContent(factor){factor=doc.querySelector(`meta[name="${element}"]`);return factor&&factor.content material}class Snapshot{constructor(factor){this.factor=factor}get youngsters(){return[…this.element.children]}hasAnchor(anchor){return null!=this.getElementForAnchor(anchor)}getElementForAnchor(anchor){return anchor?this.factor.querySelector(`[id='${anchor}'], a[name="${anchor}"]`):null}get isConnected(){return this.factor.isConnected}get firstAutofocusableElement(){return this.factor.querySelector("[autofocus]")}get everlastingElements(){return[…this.element.querySelectorAll("[id][data-turbo-permanent]")]}getPermanentElementById(id){return this.factor.querySelector(`#${id}[data-turbo-permanent]`)}getPermanentElementMapForSnapshot(snapshot){const everlastingElementMap={};for(const currentPermanentElement of this.everlastingElements){var{id}=currentPermanentElement,newPermanentElement=snapshot.getPermanentElementById(id);newPermanentElement&&(everlastingElementMap[id]=[currentPermanentElement,newPermanentElement])}return everlastingElementMap}}class FormInterceptor{constructor(delegate,factor){this.submitBubbled=occasion=>{const kind=occasion.goal;if(!occasion.defaultPrevented&&kind instanceof HTMLFormElement&&kind.closest("turbo-frame, html")==this.factor)},this.delegate=delegate,this.factor=factor}begin(){this.factor.addEventListener("submit",this.submitBubbled)}cease(){this.factor.take awayEventListener("submit",this.submitBubbled)}}class View{constructor(delegate,factor){this.resolveRenderPromise=worth=>{},this.resolveInterceptionPromise=worth=>{},this.delegate=delegate,this.factor=factor}scrollToAnchor(factor){factor=this.snapshot.getElementForAnchor(factor);factor?(this.scrollToElement(factor),this.focusElement(factor)):this.scrollToPosition({x:0,y:0})}scrollToAnchorFromLocation(location2){this.scrollToAnchor(getAnchor(location2))}scrollToElement(factor){factor.scrollIntoView()}focusElement(factor){factor instanceof HTMLElement&&(factor.hasAttribute("tabindex")?factor.focus():(factor.setAttribute("tabindex","-1″),factor.focus(),factor.removeAttribute("tabindex")))}scrollToPosition({x,y}){this.scrollRoot.scrollTo(x,y)}scrollToTop(){this.scrollToPosition({x:0,y:0})}get scrollRoot(){return window}render(renderer){return __async$4(this,null,perform*(){var{isPreview,shouldRender,newSnapshot:snapshot}=renderer;if(shouldRender)strivelastly{delete this.renderer,this.resolveRenderPromise(void 0),delete this.renderPromise}else this.invalidate()})}invalidate(){this.delegate.viewInvalidated()}prepareToRenderSnapshot(renderer){this.markAsPreview(renderer.isPreview),renderer.prepareToRender()}markAsPreview(isPreview){isPreview?this.factor.setAttribute("data-turbo-preview",""):this.factor.removeAttribute("data-turbo-preview")}renderSnapshot(renderer){return __async$4(this,null,perform*(){yield renderer.render()})}finishRenderingSnapshot(renderer){renderer.finishRendering()}}class FrameView extends View{invalidate(){this.factor.innerHTML=""}get snapshot(){return new Snapshot(this.factor)}}class LinkInterceptor{constructor(delegate,factor){this.clickBubbled=occasion=>{this.respondsToEventGoal(occasion.goal)?this.click onEvent=occasion:delete this.click onEvent},this.linkClicked=occasion=>{this.click onEvent&&this.respondsToEventGoal(occasion.goal)&&occasion.goal instanceof Element&&this.delegate.shouldInterceptLinkClick(occasion.goal,occasion.element.url)&&(this.click onEvent.preventDefault(),occasion.preventDefault(),this.delegate.linkClickIntercepted(occasion.goal,occasion.element.url)),delete this.click onEvent},this.willVisit=()=>{delete this.click onEvent},this.delegate=delegate,this.factor=factor}begin(){this.factor.addEventListener("click on",this.clickBubbled),doc.addEventListener("turbo:click on",this.linkClicked),doc.addEventListener("turbo:before-visit",this.willVisit)}cease(){this.factor.take awayEventListener("click on",this.clickBubbled),doc.take awayEventListener("turbo:click on",this.linkClicked),doc.take awayEventListener("turbo:before-visit",this.willVisit)}respondsToEventGoal(goal){const factor=goal instanceof Element?goal:goal instanceof Node?goal.father or motherElement:null;return factor&&factor.closest("turbo-frame, html")==this.factor}}class Bardo{constructor(everlastingElementMap){this.everlastingElementMap=everlastingElementMap}static preservingPermanentElements(everlastingElementMap,callback){const bardo=new this(everlastingElementMap);bardo.enter(),callback(),bardo.depart()}enter(){for(const id on this.everlastingElementMap){var[,newPermanentElement]=this.everlastingElementMap[id];this.replaceNewPermanentElementWithPlaceholder(newPermanentElement)}}depart(){for(const id on this.everlastingElementMap){var[currentPermanentElement]=this.everlastingElementMap[id];this.replaceCurrentPermanentElementWithClone(currentPermanentElement),this.replacePlaceholderWithEverlastingElement(currentPermanentElement)}}replaceNewPermanentElementWithPlaceholder(everlastingElement){var placeholder=perform createPlaceholderForEverlastingElement(everlastingElement){const factor=doc.createElement("meta");return factor.setAttribute("identify","turbo-permanent-placeholder"),factor.setAttribute("content material",everlastingElement.id),factor}(everlastingElement);everlastingElement.changeWith(placeholder)}replaceCurrentPermanentElementWithClone(everlastingElement){var clone=everlastingElement.cloneNode(!0);everlastingElement.changeWith(clone)}replacePlaceholderWithEverlastingElement(everlastingElement){const placeholder=this.getPlaceholderById(everlastingElement.id);null!==placeholder&&void 0!==placeholder&&placeholder.changeWith(everlastingElement)}getPlaceholderById(id){return this.placeholders.discover(factor=>factor.content material==id)}get placeholders(){return[…document.querySelectorAll("meta[name=turbo-permanent-placeholder][content]")]}}class Renderer{constructor(presentSnapshot,newSnapshot,isPreview,willRender=!0){this.presentSnapshot=presentSnapshot,this.newSnapshot=newSnapshot,this.isPreview=isPreview,this.willRender=willRender,this.promise=new Promise((resolve,reject)=>this.resolvingFunctions={resolve:resolve,reject:reject})}get shouldRender(){return!0}prepareToRender(){}finishRendering(){this.resolvingFunctions&&(this.resolvingFunctions.resolve(),delete this.resolvingFunctions)}createScriptElement(factor){if("false"==factor.getAttribute("data-turbo-eval"))return factor;{const createdScriptElement=doc.createElement("script");return this.cspNonce&&(createdScriptElement.nonce=this.cspNonce),createdScriptElement.textual contentContent=factor.textual contentContent,createdScriptElement.async=!1,perform copyElementAttributes(vacation spotElement,supplyElement){for(var{identify,worth}of[…sourceElement.attributes])vacation spotElement.setAttribute(identify,worth)}(createdScriptElement,factor),createdScriptElement}}preservingPermanentElements(callback){Bardo.preservingPermanentElements(this.everlastingElementMap,callback)}focusFirstAutofocusableElement(){const factor=this.relatedSnapshot.firstAutofocusableElement;!perform elementIsFocusable(factor){return factor&&"perform"==typeof factor.focus}(factor)||factor.focus()}get relatedSnapshot(){return this.newSnapshot.isConnected?this.newSnapshot:this.presentSnapshot}get presentElement(){return this.presentSnapshot.factor}get newElement(){return this.newSnapshot.factor}get everlastingElementMap(){return this.presentSnapshot.getPermanentElementMapForSnapshot(this.newSnapshot)}get cspNonce()void 0===_a?void 0:_a.getAttribute("content material")}class FrameRenderer extends Renderer{get shouldRender(){return!0}render(){return __async$4(this,null,perform*(){yield nextAnimationFrame(),this.preservingPermanentElements(()=>{this.loadFrameElement()}),this.scrollFrameIntoView(),yield nextAnimationFrame(),this.focusFirstAutofocusableElement(),yield nextAnimationFrame(),this.activateScriptElements()})}loadFrameElement()void 0===_a?void 0:_a.createRange();sourceRange&&(sourceRange.chooseNodeContents(bodyElement),this.presentElement.appendChild(sourceRange.extractContents()))scrollFrameIntoView(){if(this.presentElement.autoscroll||this.newElement.autoscroll){const factor=this.presentElement.firstElementBaby;var block=perform readScrollLogicalPosition(worth,defaultValue)"begin"==worth(this.presentElement.getAttribute("data-autoscroll-block"),"finish");if(factor)return factor.scrollIntoView({block:block}),!0}return!1}activateScriptElements(){for(const inertScriptElement of this.newScriptElements){var activatedScriptElement=this.createScriptElement(inertScriptElement);inertScriptElement.changeWith(activatedScriptElement)}}get newScriptElements(){return this.presentElement.querySelectorAll("script")}}class ProgressBar{constructor(){this.hiding=!1,this.worth=0,this.seen=!1,this.trickle=()=>{this.setValue(this.worth+Math.random()/100)},this.stylesheetElement=this.createStylesheetElement(),this.progressElement=this.createProgressElement(),this.installStylesheetElement(),this.setValue(0)}static get defaultCSS(){return unindent`
.turbo-progress-bar {
place: mounted;
show: block;
high: 0;
left: 0;
top: 3px;
background: #0076ff;
z-index: 9999;
transition:
width ${ProgressBar.animationDuration}ms ease-out,
opacity ${ProgressBar.animationDuration/2}ms ${ProgressBar.animationDuration/2}ms ease-in;
rework: translate3d(0, 0, 0);
}
`}present()disguise(){this.seen&&!this.hiding&&(this.hiding=!0,this.fadeProgressElement(()=>{this.uninstallProgressElement(),this.stopTrickling(),this.seen=!1,this.hiding=!1}))}setValue(worth){this.worth=worth,this.refresh()}installStylesheetElement(){doc.head.insertBefore(this.stylesheetElement,doc.head.firstChild)}installProgressElement(){this.progressElement.fashion.width="0″,this.progressElement.fashion.opacity="1″,doc.docElement.insertBefore(this.progressElement,doc.physique),this.refresh()}fadeProgressElement(callback){this.progressElement.fashion.opacity="0″,setTimeout(callback,1.5*ProgressBar.animationDuration)}uninstallProgressElement(){this.progressElement.father or motherNode&&doc.docElement.removeChild(this.progressElement)}startTrickling()stopTrickling(){window.clearInterval(this.trickleInterval),delete this.trickleInterval}refresh(){requestAnimationFrame(()=>{this.progressElement.fashion.width=`${10+90*this.worth}%`})}createStylesheetElement(){const factor=doc.createElement("fashion");return factor.sort="textual content/css",factor.textual contentContent=ProgressBar.defaultCSS,factor}createProgressElement(){const factor=doc.createElement("div");return factor.className="turbo-progress-bar",factor}}ProgressBar.animationDuration=300;class HeadSnapshot extends Snapshot{constructor(){tremendous(…arguments),this.detailsByOuterHTML=this.youngsters.filter(factor=>!perform elementIsNoscript(tagName){tagName=tagName.tagName.toLowerCase();return"noscript"==tagName}(factor)).map(factor=>perform factorWithoutNonce(factor){factor.hasAttribute("nonce")&&factor.setAttribute("nonce","");return factor}(factor)).cut back((outcome,factor)=>{var{outerHTML}=factor,particulars=outerHTML in outcome?outcome[outerHTML]:{sort:perform factorType(factor){{if(perform elementIsScript(tagName){tagName=tagName.tagName.toLowerCase();return"script"==tagName}(factor))return"script";if(perform elementIsStylesheet(factor)(factor))return"stylesheet"}}(factor),tracked:perform elementIsTracked(factor){return"reload"==factor.getAttribute("data-turbo-track")}(factor),components:[]};return Object.assign(Object.assign({},outcome),{[outerHTML]:Object.assign(Object.assign({},particulars),{components:[…details.elements,element]})})},{})}get trackedElementSignature(){return Object.keys(this.detailsByOuterHTML).filter(outerHTML=>this.detailsByOuterHTML[outerHTML].tracked).be part of("")}getScriptElementsNotInSnapshot(snapshot){return this.getElementsMatchingTypeNotInSnapshot("script",snapshot)}getStylesheetElementsNotInSnapshot(snapshot){return this.getElementsMatchingTypeNotInSnapshot("stylesheet",snapshot)}getElementsMatchingTypeNotInSnapshot(matchedType,snapshot){return Object.keys(this.detailsByOuterHTML).filter(outerHTML=>!(outerHTML in snapshot.detailsByOuterHTML)).map(outerHTML=>this.detailsByOuterHTML[outerHTML]).filter(({sort})=>sort==matchedType).map(({components:[element]})=>factor)}get provisionalElements(){return Object.keys(this.detailsByOuterHTML).cut back((outcome,outerHTML)=>{const{sort,tracked,components}=this.detailsByOuterHTML[outerHTML];return null!=sort||tracked?1{var{components:[element]}=this.detailsByOuterHTML[element];return perform elementIsMetaElementWithIdentify(factor,identify){var tagName=factor.tagName.toLowerCase();return"meta"==tagName&&factor.getAttribute("identify")==identify}(factor,identify)?factor:outcome},void 0)}}class Web pageSnapshot extends Snapshot{constructor(factor,headSnapshot){tremendous(factor),this.headSnapshot=headSnapshot}static fromHTMLString(html=""){return this.fromDocument(parseHTMLDocument(html))}static fromElement(factor){return this.fromDocument(factor.ownerDocument)}static fromDocument({head,physique}){return new this(physique,new HeadSnapshot(head))}clone(){return new Web pageSnapshot(this.factor.cloneNode(!0),this.headSnapshot)}get headElement(){return this.headSnapshot.factor}get rootLocation(){var _a;return expandURL(null!==(_a=this.getSetting("root"))&&void 0!==_a?_a:"/")}get cacheControlValue(){return this.getSetting("cache-control")}get isPreviewable(){return"no-preview"!=this.cacheControlValue}get isCacheable(){return"no-cache"!=this.cacheControlValue}get isVisitin a position(){return"reload"!=this.getSetting("visit-control")}getSetting(identify){return this.headSnapshot.getMetaValue(`turbo-${identify}`)}}(dfxGdprChecker=TimingMetric=TimingMetric||{}).visitStart="visitStart",dfxGdprChecker.requestStart="requestStart",dfxGdprChecker.requestEnd="requestEnd",dfxGdprChecker.visitEnd="visitEnd",(Turbo$1=VisitState=VisitState||{}).initialized="initialized",Turbo$1.began="began",Turbo$1.canceled="canceled",Turbo$1.failed="failed";const defaultOptions={motion:"advance",historyChanged:!(Turbo$1.accomplished="accomplished"),visitCachedSnapshot:()=>{},willRender:!0};(dfxGdprChecker=SystemStatusCode=SystemStatusCode||{})[dfxGdprChecker.networkFailure=0]="networkFailure",dfxGdprChecker[dfxGdprChecker.timeoutFailure=-1]="timeoutFailure",dfxGdprChecker[dfxGdprChecker.contentTypeMismatch=-2]="content materialTypeMismatch";class Visit{constructor(snapshotHTML,response,visitCachedSnapshot,willRender={}){this.identifier=uuid(),this.timingMetrics={},this.followedRedirect=!1,this.historyChanged=!1,this.scrolled=!1,this.snapshotCached=!1,this.state=VisitState.initialized,this.delegate=snapshotHTML,this.location=response,this.restorationIdentifier=visitCachedSnapshot||uuid();var{motion,historyChanged,referrer,snapshotHTML,response,visitCachedSnapshot,willRender}=Object.assign(Object.assign({},defaultOptions),willRender);this.motion=motion,this.historyChanged=historyChanged,this.referrer=referrer,this.snapshotHTML=snapshotHTML,this.response=response,this.isSamePage=this.delegate.locationWithActionIsSamePage(this.location,this.motion),this.visitCachedSnapshot=visitCachedSnapshot,this.willRender=willRender,this.scrolled=!willRender}get adapter(){return this.delegate.adapter}get view(){return this.delegate.view}get historical past(){return this.delegate.historical past}get restorationData(){return this.historical past.getRestorationDataForIdentifier(this.restorationIdentifier)}get silent(){return this.isSamePage}begin(){this.state==VisitState.initialized&&(this.recordTimingMetric(TimingMetric.visitStart),this.state=VisitState.began,this.adapter.visitStarted(this),this.delegate.visitStarted(this))}cancel(){this.state==VisitState.began&&(this.request&&this.request.cancel(),this.cancelRender(),this.state=VisitState.canceled)}full(){this.state==VisitState.began&&(this.recordTimingMetric(TimingMetric.visitEnd),this.state=VisitState.accomplished,this.adapter.visitCompleted(this),this.delegate.visitCompleted(this),this.followRedirect())}fail(){this.state==VisitState.began&&(this.state=VisitState.failed,this.adapter.go toFailed(this))}changeHistory()void 0===technique?void 0:technique.href)?"change":this.motion,technique=this.getHistoryTechniqueForMotion(technique),this.historical past.replace(technique,this.location,this.restorationIdentifier),this.historyChanged=!0)issueRequest(){this.hasPreloadedResponse()?this.simulateRequest():this.shouldIssueRequest()&&!this.request&&(this.request=new FetchRequest(this,FetchMethod.get,this.location),this.request.carry out())}simulateRequest(){this.response&&(this.startRequest(),this.documentResponse(),this.finishRequest())}startRequest(){this.recordTimingMetric(TimingMetric.requestStart),this.adapter.visitRequestStarted(this)}documentResponse(statusCode=this.response){(this.response=statusCode)&&({statusCode:statusCode}=statusCode,isSuccessful(statusCode)?this.adapter.visitRequestCompleted(this):this.adapter.visitRequestFailedWithStatusCode(this,statusCode))}finishRequest(){this.recordTimingMetric(TimingMetric.requestEnd),this.adapter.visitRequestFinished(this)}loadResponse(){if(this.response){const{statusCode,responseHTML}=this.response;this.render(()=>__async$4(this,null,perform*(){this.cacheSnapshot(),this.view.renderPromise&&(yield this.view.renderPromise),isSuccessful(statusCode)&&null!=responseHTML?(yield this.view.renderPage(Web pageSnapshot.fromHTMLString(responseHTML),!1,this.willRender),this.adapter.visitRendered(this),this.full()):(yield this.view.renderError(Web pageSnapshot.fromHTMLString(responseHTML)),this.adapter.visitRendered(this),this.fail())}))}}getCachedSnapshot()snapshot.isPreviewable))return snapshotgetPreloadedSnapshot(){if(this.snapshotHTML)return Web pageSnapshot.fromHTMLString(this.snapshotHTML)}hasCachedSnapshot(){return null!=this.getCachedSnapshot()}loadCachedSnapshot(){const snapshot=this.getCachedSnapshot();if(snapshot){const isPreview=this.shouldIssueRequest();this.render(()=>__async$4(this,null,perform*()this.full())))}}followRedirect(){var _a;this.redirectedToLocation&&!this.followedRedirect&&null!==(_a=this.response)&&void 0!==_a&&_a.redirected&&(this.adapter.visitProposedToLocation(this.redirectedToLocation,{motion:"change",response:this.response}),this.followedRedirect=!0)}goToSamePageAnchor(){this.isSamePage&&this.render(()=>__async$4(this,null,perform*(){this.cacheSnapshot(),this.adapter.visitRendered(this)}))}requestStarted(){this.startRequest()}requestPreventedHandlingResponse(request,response){}requestSucceededWithResponse(request,response){return __async$4(this,null,perform*(){var responseHTML=yield response.responseHTML,{redirected,statusCode}=response;null==responseHTML?this.documentResponse({statusCode:SystemStatusCode.content materialTypeMismatch,redirected:redirected}):(this.redirectedToLocation=response.redirected?response.location:void 0,this.documentResponse({statusCode:statusCode,responseHTML:responseHTML,redirected:redirected}))})}requestFailedWithResponse(request,response){return __async$4(this,null,perform*(){var responseHTML=yield response.responseHTML,{redirected,statusCode}=response;null==responseHTML?this.documentResponse({statusCode:SystemStatusCode.content materialTypeMismatch,redirected:redirected}):this.documentResponse({statusCode:statusCode,responseHTML:responseHTML,redirected:redirected})})}requestErrored(request,error){this.documentResponse({statusCode:SystemStatusCode.networkFailure,redirected:!1})}requestFinished(){this.finishRequest()}performScroll()this.view.scrollToTop():this.scrollToAnchor()scrollToRestoredPosition(){var{scrollPosition}=this.restorationData;if(scrollPosition)return this.view.scrollToPosition(scrollPosition),!0}scrollToAnchor(){var anchor=getAnchor(this.location);if(null!=anchor)return this.view.scrollToAnchor(anchor),!0}recordTimingMetric(metric){this.timingMetrics[metric]=(new Date).getTime()}getTimingMetrics(){return Object.assign({},this.timingMetrics)}getHistoryTechniqueForMotion(motion){change(motion){case"change":return historical past.replaceState;case"advance":case"restore":return historical past.pushState}}hasPreloadedResponse(){return"object"==typeof this.response}shouldIssueRequest(){return!this.isSamePage&&("restore"==this.motion?!this.hasCachedSnapshot():this.willRender)}cacheSnapshot()render(callback){return __async$4(this,null,perform*(){this.cancelRender(),yield new Promise(resolve=>{this.body=requestAnimationFrame(()=>resolve())}),yield callback(),delete this.body,this.performScroll()})}cancelRender(){this.body&&(cancelAnimationFrame(this.body),delete this.body)}}perform isSuccessful(statusCode){return 200<=statusCode&&statusCode{this.progressBar.present()},this.session=session2}visitProposedToLocation(location2,choices){this.navigator.beginVisit(location2,uuid(),choices)}visitStarted(visit2){visit2.loadCachedSnapshot(),visit2.issueRequest(),visit2.changeHistory(),visit2.goToSamePageAnchor()}visitRequestStarted(visit2)"restore"!=visit2.motion?this.presentVisitProgressBarAfterDelay():this.showProgressBar()visitRequestCompleted(visit2){visit2.loadResponse()}visitRequestFailedWithStatusCode(visit2,statusCode){change(statusCode){case SystemStatusCode.networkFailure:case SystemStatusCode.timeoutFailure:case SystemStatusCode.content materialTypeMismatch:return this.reload();default:return visit2.loadResponse()}}visitRequestFinished(visit2){this.progressBar.setValue(1),this.disguiseVisitProgressBar()}visitCompleted(visit2){}web pageInvalidated(){this.reload()}go toFailed(visit2){}visitRendered(visit2){}formSubmissionStarted(formSubmission){this.progressBar.setValue(0),this.presentFormProgressBarAfterDelay()}formSubmissionFinished(formSubmission){this.progressBar.setValue(1),this.disguiseFormProgressBar()}presentVisitProgressBarAfterDelay(){this.visitProgressBarTimeout=window.setTimeout(this.showProgressBar,this.session.progressBarDelay)}disguiseVisitProgressBar(){this.progressBar.disguise(),null!=this.visitProgressBarTimeout&&(window.clearTimeout(this.visitProgressBarTimeout),delete this.visitProgressBarTimeout)}presentFormProgressBarAfterDelay(){null==this.formProgressBarTimeout&&(this.formProgressBarTimeout=window.setTimeout(this.showProgressBar,this.session.progressBarDelay))}disguiseFormProgressBar(){this.progressBar.disguise(),null!=this.formProgressBarTimeout&&(window.clearTimeout(this.formProgressBarTimeout),delete this.formProgressBarTimeout)}reload(){window.location.reload()}get navigator(){return this.session.navigator}}class CacheObserver{constructor(){this.began=!1}begin()(this.began=!0,addEventListener("turbo:before-cache",this.removeStaleElements,!1))cease(){this.began&&(this.began=!1,take awayEventListener("turbo:before-cache",this.removeStaleElements,!1))}removeStaleElements(){for(const factor of[…document.querySelectorAll('[data-turbo-cache="false"]')])factor.take away()}}class FormSubmitObserver{constructor(delegate){this.began=!1,this.submitCaptured=()=>{take awayEventListener("submit",this.submitBubbled,!1),addEventListener("submit",this.submitBubbled,!1)},this.submitBubbled=occasion=>{if(!occasion.defaultPrevented)},this.delegate=delegate}begin()cease(){this.began&&(take awayEventListener("submit",this.submitCaptured,!0),this.began=!1)}}class FrameRedirector{constructor(factor){this.factor=factor,this.linkInterceptor=new LinkInterceptor(this,factor),this.formInterceptor=new FormInterceptor(this,factor)}begin(){this.linkInterceptor.begin(),this.formInterceptor.begin()}cease(){this.linkInterceptor.cease(),this.formInterceptor.cease()}shouldInterceptLinkClick(factor,url){return this.shouldRedirect(factor)}linkClickIntercepted(factor,url){const body=this.discoverFrameElement(factor);body&&body.delegate.linkClickIntercepted(factor,url)}shouldInterceptFormSubmission(factor,submitter){return this.shouldSubmit(factor,submitter)}formSubmissionIntercepted(factor,submitter){const body=this.discoverFrameElement(factor,submitter);body&&(body.removeAttribute("reloadable"),body.delegate.formSubmissionIntercepted(factor,submitter))}shouldSubmit(kind,submitter){var motion=getAction(kind,submitter),rootLocation=this.factor.ownerDocument.querySelector('meta[name="turbo-root"]'),rootLocation=expandURL(null!==(rootLocation=null==rootLocation?void 0:rootLocation.content material)&&void 0!==rootLocation?rootLocation:"/");return this.shouldRedirect(kind,submitter)&&locationIsVisitin a position(motion,rootLocation)}shouldRedirect(factor,body){body=this.discoverFrameElement(factor,body);return!!body&&body!=factor.closest("turbo-frame")}discoverFrameElement(body,submitter){body=(null==submitter?void 0:submitter.getAttribute("data-turbo-frame"))||body.getAttribute("data-turbo-frame");if(body&&"_top"!=body){body=this.factor.querySelector(`#${body}:not([disabled])`);if(body instanceof FrameElement)return body}}}class History{constructor(delegate){this.restorationIdentifier=uuid(),this.restorationData={},this.began=!1,this.web pageLoaded=!1,this.onPopState=restorationIdentifier=>{this.shouldHandlePopState()&&({turbo:restorationIdentifier}=restorationIdentifier.state||{},restorationIdentifier&&(this.location=new URL(window.location.href),{restorationIdentifier:restorationIdentifier}=restorationIdentifier,this.restorationIdentifier=restorationIdentifier,this.delegate.historyPoppedToLocationWithRestorationIdentifier(this.location,restorationIdentifier)))},this.onPageLoad=occasion=>__async$4(this,null,perform*(){yield perform nextMicrotask(){return Promise.resolve()}(),this.web pageLoaded=!0}),this.delegate=delegate}begin()(addEventListener("popstate",this.onPopState,!1),addEventListener("load",this.onPageLoad,!1),this.began=!0,this.change(new URL(window.location.href)))cease(){this.began&&(take awayEventListener("popstate",this.onPopState,!1),take awayEventListener("load",this.onPageLoad,!1),this.began=!1)}push(location2,restorationIdentifier){this.replace(historical past.pushState,location2,restorationIdentifier)}change(location2,restorationIdentifier){this.replace(historical past.replaceState,location2,restorationIdentifier)}replace(technique,location2,restorationIdentifier=uuid()){technique.name(historical past,{turbo:{restorationIdentifier:restorationIdentifier}},"",location2.href),this.location=location2,this.restorationIdentifier=restorationIdentifier}getRestorationDataForIdentifier(restorationIdentifier){return this.restorationData[restorationIdentifier]||{}}updateRestorationData(extraData){var{restorationIdentifier}=this,restorationData=this.restorationData[restorationIdentifier];this.restorationData[restorationIdentifier]=Object.assign(Object.assign({},restorationData),extraData)}assumeControlOfScrollRestoration()(this.previousScrollRestoration=null!==(_a=historical past.scrollRestoration)&&void 0!==_a?_a:"auto",historical past.scrollRestoration="handbook")relinquishControlOfScrollRestoration(){this.previousScrollRestoration&&(historical past.scrollRestoration=this.previousScrollRestoration,delete this.previousScrollRestoration)}shouldHandlePopState(){return this.pageIsLoaded()}pageIsLoaded()"full"==doc.readyState}class LinkClickObserver{constructor(delegate){this.began=!1,this.clickCaptured=()=>{take awayEventListener("click on",this.clickBubbled,!1),addEventListener("click on",this.clickBubbled,!1)},this.clickBubbled=occasion=>,this.delegate=delegate}begin()(addEventListener("click on",this.clickCaptured,!0),this.began=!0)cease(){this.began&&(take awayEventListener("click on",this.clickCaptured,!0),this.began=!1)}click onEventIsSignificant(occasion){return!(occasion.goal&&occasion.goal.isContentEditable||occasion.defaultPrevented||1{var{readyState}=this;"interactive"==readyState?this.pageIsInteractive():"full"==readyState&&this.pageIsComplete()},this.pageWillUnload=()=>{this.delegate.pageWillUnload()},this.delegate=delegate}begin()(this.stage==PageStage.preliminary&&(this.stage=PageStage.loading),doc.addEventListener("readystatechange",this.interpretReadyState,!1),addEventListener("pagehide",this.pageWillUnload,!1),this.began=!0)cease(){this.began&&(doc.take awayEventListener("readystatechange",this.interpretReadyState,!1),take awayEventListener("pagehide",this.pageWillUnload,!1),this.began=!1)}pageIsInteractive(){this.stage==PageStage.loading&&(this.stage=PageStage.interactive,this.delegate.pageBecameInteractive())}pageIsComplete(){this.pageIsInteractive(),this.stage==PageStage.interactive&&(this.stage=PageStage.full,this.delegate.web pageLoaded())}get readyState(){return doc.readyState}}class ScrollObserver{constructor(delegate){this.began=!1,this.onScroll=()=>{this.updatePosition({x:window.pageXOffset,y:window.pageYOffset})},this.delegate=delegate}begin()cease(){this.began&&(take awayEventListener("scroll",this.onScroll,!1),this.began=!1)}updatePosition(place){this.delegate.scrollPositionChanged(place)}}class StreamObserver{constructor(delegate){this.sources=new Set,this.began=!1,this.inspectFetchResponse=occasion=>{var response=perform fetchResponseFromEvent(fetchResponse)void 0===fetchResponse?void 0:fetchResponse.fetchResponse;if(fetchResponse instanceof FetchResponse)return fetchResponse(occasion);response&&perform fetchResponseIsStream(_a){const content materialType=null!==(_a=_a.content materialType)&&void 0!==_a?_a:"";return content materialType.beginsWith(StreamMessage.content materialType)}(response)&&(occasion.preventDefault(),this.receiveMessageResponse(response))},this.receiveMessageEvent=occasion=>{this.began&&"string"==typeof occasion.knowledge&&this.receiveMessageHTML(occasion.knowledge)},this.delegate=delegate}begin()cease(){this.began&&(this.began=!1,take awayEventListener("turbo:before-fetch-response",this.inspectFetchResponse,!1))}connectStreamSource(supply)disconnectStreamSource(supply){this.streamSourceIsConnected(supply)&&(this.sources.delete(supply),supply.take awayEventListener("message",this.receiveMessageEvent,!1))}streamSourceIsConnected(supply){return this.sources.has(supply)}receiveMessageResponse(response){return __async$4(this,null,perform*(){var html=yield response.responseHTML;html&&this.receiveMessageHTML(html)})}receiveMessageHTML(html){this.delegate.receivedMessageFromStream(new StreamMessage(html))}}class ErrorRenderer extends Renderer{render(){return __async$4(this,null,perform*(){this.replaceHeadAndBody(),this.activateScriptElements()})}replaceHeadAndBody(){const{docElement,head,physique}=doc;docElement.replaceChild(this.newHead,head),docElement.replaceChild(this.newElement,physique)}activateScriptElements(){for(const replaceableElement of this.scriptElements){const father or motherNode=replaceableElement.father or motherNode;var factor;father or motherNode&&(factor=this.createScriptElement(replaceableElement),father or motherNode.replaceChild(factor,replaceableElement))}}get newHead(){return this.newSnapshot.headSnapshot.factor}get scriptElements(){return[…document.documentElement.querySelectorAll("script")]}}class Web pageRenderer extends Renderer{get shouldRender(){return this.newSnapshot.isVisitin a position&&this.trackedElementsAreIdentical}prepareToRender(){this.mergeHead()}render(){return __async$4(this,null,perform*(){this.willRender&&this.replaceBody()})}finishRendering()this.focusFirstAutofocusableElement()get currentHeadSnapshot(){return this.presentSnapshot.headSnapshot}get newHeadSnapshot(){return this.newSnapshot.headSnapshot}get newElement(){return this.newSnapshot.factor}mergeHead(){this.copyNewHeadStylesheetElements(),this.copyNewHeadScriptElements(),this.removeCurrentHeadProvisionalElements(),this.copyNewHeadProvisionalElements()}replaceBody(){this.preservingPermanentElements(()=>{this.activateNewBody(),this.assignNewBody()})}get trackedElementsAreIdentical(){return this.currentHeadSnapshot.trackedElementSignature==this.newHeadSnapshot.trackedElementSignature}copyNewHeadStylesheetElements(){for(const factor of this.newHeadStylesheetElements)doc.head.appendChild(factor)}copyNewHeadScriptElements(){for(const factor of this.newHeadScriptElements)doc.head.appendChild(this.createScriptElement(factor))}removeCurrentHeadProvisionalElements(){for(const factor of this.currentHeadProvisionalElements)doc.head.removeChild(factor)}copyNewHeadProvisionalElements(){for(const factor of this.newHeadProvisionalElements)doc.head.appendChild(factor)}activateNewBody(){doc.undertakeNode(this.newElement),this.activateNewBodyScriptElements()}activateNewBodyScriptElements(){for(const inertScriptElement of this.newBodyScriptElements){var activatedScriptElement=this.createScriptElement(inertScriptElement);inertScriptElement.changeWith(activatedScriptElement)}}assignNewBody(){doc.physique&&this.newElement instanceof HTMLBodyElement?doc.physique.changeWith(this.newElement):doc.docElement.appendChild(this.newElement)}get newHeadStylesheetElements(){return this.newHeadSnapshot.getStylesheetElementsNotInSnapshot(this.currentHeadSnapshot)}get newHeadScriptElements(){return this.newHeadSnapshot.getScriptElementsNotInSnapshot(this.currentHeadSnapshot)}get currentHeadProvisionalElements(){return this.currentHeadSnapshot.provisionalElements}get newHeadProvisionalElements(){return this.newHeadSnapshot.provisionalElements}get newBodyScriptElements(){return this.newElement.querySelectorAll("script")}}class SnapshotCache{constructor(measurement){this.keys=[],this.snapshots={},this.measurement=measurement}has(location2){return toCacheKey(location2)on this.snapshots}get(location2){if(this.has(location2)){var snapshot=this.learn(location2);return this.contact(location2),snapshot}}put(location2,snapshot){return this.write(location2,snapshot),this.contact(location2),snapshot}clear(){this.snapshots={}}learn(location2){return this.snapshots[toCacheKey(location2)]}write(location2,snapshot){this.snapshots[toCacheKey(location2)]=snapshot}contact(index){var key=toCacheKey(index),index=this.keys.indexOf(key);-1setTimeout(()=>resolve(),0))}();var cachedSnapshot=snapshot.clone();return this.snapshotCache.put(location2,cachedSnapshot),cachedSnapshot}})}getCachedSnapshotForLocation(location2){return this.snapshotCache.get(location2)}get snapshot(){return Web pageSnapshot.fromElement(this.factor)}get shouldCacheSnapshot(){return this.snapshot.isCacheable}}perform extendURLWithDeprecatedProperties(url){Object.defineProperties(url,deprecatedLocationPropertyDescriptors)}const deprecatedLocationPropertyDescriptors={absoluteURL:{get(){return this.toString()}}},session=new class Session{constructor(){this.navigator=new Navigator(this),this.historical past=new History(this),this.view=new Web pageView(this,doc.docElement),this.adapter=new BrowserAdapter(this),this.pageObserver=new PageObserver(this),this.cacheObserver=new CacheObserver,this.linkClickObserver=new LinkClickObserver(this),this.formSubmitObserver=new FormSubmitObserver(this),this.scrollObserver=new ScrollObserver(this),this.streamObserver=new StreamObserver(this),this.frameRedirector=new FrameRedirector(doc.docElement),this.drive=!0,this.enabled=!0,this.progressBarDelay=500,this.began=!1}begin()disable(){this.enabled=!1}cease(){this.began&&(this.pageObserver.cease(),this.cacheObserver.cease(),this.linkClickObserver.cease(),this.formSubmitObserver.cease(),this.scrollObserver.cease(),this.streamObserver.cease(),this.frameRedirector.cease(),this.historical past.cease(),this.began=!1)}registerAdapter(adapter){this.adapter=adapter}go to(location2,choices={}){this.navigator.suggestVisit(expandURL(location2),choices)}connectStreamSource(supply){this.streamObserver.connectStreamSource(supply)}disconnectStreamSource(supply){this.streamObserver.disconnectStreamSource(supply)}renderStreamMessage(message){doc.docElement.appendChild(StreamMessage.wrap(message).fragment)}clearCache(){this.view.clearSnapshotCache()}setProgressBarDelay(delay){this.progressBarDelay=delay}get location(){return this.historical past.location}get restorationIdentifier(){return this.historical past.restorationIdentifier}historyPoppedToLocationWithRestorationIdentifier(location2,restorationIdentifier){this.enabled?this.navigator.beginVisit(location2,restorationIdentifier,{motion:"restore",historyChanged:!0}):this.adapter.web pageInvalidated()}scrollPositionChanged(place){this.historical past.updateRestorationData({scrollPosition:place})}willFollowLinkToLocation(hyperlink,location2){return this.elementDriveEnabled(hyperlink)&&locationIsVisitin a position(location2,this.snapshot.rootLocation)&&this.applicationAllowsFollowingLinkToLocation(hyperlink,location2)}followedLinkToLocation(hyperlink,location2){var motion=this.getActionForHyperlink(hyperlink);this.convertLinkWithMethodClickToFormSubmission(hyperlink)||this.go to(location2.href,{motion:motion})}convertLinkWithMethodClickToFormSubmission(body){var linkMethod=body.getAttribute("data-turbo-method");if(linkMethod){const kind=doc.createElement("kind");kind.technique=linkMethod,kind.motion=body.getAttribute("href")||"undefined",kind.hidden=!0,body.hasAttribute("data-turbo-confirm")&&kind.setAttribute("data-turbo-confirm",body.getAttribute("data-turbo-confirm"));body=this.getTargetFrameForHyperlink(body);return body?(kind.setAttribute("data-turbo-frame",body),kind.addEventListener("turbo:submit-start",()=>kind.take away())):kind.addEventListener("submit",()=>kind.take away()),doc.physique.appendChild(kind),dispatch("submit",{cancelable:!0,goal:kind})}return!1}permitsVisitingLocationWithMotion(location2,motion)this.applicationAllowsVisitingLocation(location2)visitProposedToLocation(location2,choices){extendURLWithDeprecatedProperties(location2),this.adapter.visitProposedToLocation(location2,choices)}visitStarted(visit2)this.notifyApplicationAfterVisitingLocation(visit2.location,visit2.motion)visitCompleted(visit2){this.notifyApplicationAfterPageLoad(visit2.getTimingMetrics())}locationWithActionIsSamePage(location2,motion){return this.navigator.locationWithActionIsSamePage(location2,motion)}visitScrolledToSamePageLocation(oldURL,newURL){this.notifyApplicationAfterVisitingSamePageLocation(oldURL,newURL)}willSubmitForm(kind,submitter)formSubmitted(kind,submitter){this.navigator.submitForm(kind,submitter)}pageBecameInteractive(){this.view.lastRenderedLocation=this.location,this.notifyApplicationAfterPageLoad()}web pageLoaded(){this.historical past.assumeControlOfScrollRestoration()}pageWillUnload(){this.historical past.relinquishControlOfScrollRestoration()}receivedMessageFromStream(message){this.renderStreamMessage(message)}viewWillCacheSnapshot()allowsImmediateRender({factor},resume){return!this.notifyApplicationBeforeRender(factor,resume).defaultPrevented}viewRenderedSnapshot(snapshot,isPreview){this.view.lastRenderedLocation=this.historical past.location,this.notifyApplicationAfterRender()}viewInvalidated(){this.adapter.web pageInvalidated()}bodyLoaded(body){this.notifyApplicationAfterFrameLoad(body)}frameRendered(fetchResponse,body){this.notifyApplicationAfterFrameRender(fetchResponse,body)}applicationAllowsFollowingLinkToLocation(hyperlink,location2){return!this.notifyApplicationAfterClickingLinkToLocation(hyperlink,location2).defaultPrevented}applicationAllowsVisitingLocation(location2){return!this.notifyApplicationBeforeVisitingLocation(location2).defaultPrevented}notifyApplicationAfterClickingLinkToLocation(hyperlink,location2){return dispatch("turbo:click on",{goal:hyperlink,element:{url:location2.href},cancelable:!0})}notifyApplicationBeforeVisitingLocation(location2){return dispatch("turbo:before-visit",{element:{url:location2.href},cancelable:!0})}notifyApplicationAfterVisitingLocation(location2,motion){return markAsBusy(doc.docElement),dispatch("turbo:go to",{element:{url:location2.href,motion:motion}})}notifyApplicationBeforeCachingSnapshot(){return dispatch("turbo:before-cache")}notifyApplicationBeforeRender(newBody,resume){return dispatch("turbo:before-render",{element:{newBody:newBody,resume:resume},cancelable:!0})}notifyApplicationAfterRender(){return dispatch("turbo:render")}notifyApplicationAfterPageLoad(timing={}){return clearBusyState(doc.docElement),dispatch("turbo:load",{element:{url:this.location.href,timing:timing}})}notifyApplicationAfterVisitingSamePageLocation(oldURL,newURL){dispatchEvent(new HashChangeEvent("hashchange",{oldURL:oldURL.toString(),newURL:newURL.toString()}))}notifyApplicationAfterFrameLoad(body){return dispatch("turbo:frame-load",{goal:body})}notifyApplicationAfterFrameRender(fetchResponse,body){return dispatch("turbo:frame-render",{element:{fetchResponse:fetchResponse},goal:body,cancelable:!0})}elementDriveEnabled(factor)getActionForHyperlink(motion){motion=motion.getAttribute("data-turbo-action");return isAction(motion)?motion:"advance"}getTargetFrameForHyperlink(container){var body=container.getAttribute("data-turbo-frame");if(body)return body;container=container.closest("turbo-frame");return container?container.id:void 0}get snapshot(){return this.view.snapshot}};var{navigator:dfxGdprChecker}=session;perform begin(){session.begin()}perform registerAdapter(adapter){session.registerAdapter(adapter)}perform go to(location2,choices){session.go to(location2,choices)}perform connectStreamSource(supply){session.connectStreamSource(supply)}perform disconnectStreamSource(supply){session.disconnectStreamSource(supply)}perform renderStreamMessage(message){session.renderStreamMessage(message)}perform clearCache(){session.clearCache()}perform setProgressBarDelay(delay){session.setProgressBarDelay(delay)}perform setConfirmMethod(confirmMethod){FormSubmission.confirmMethod=confirmMethod}var Turbo$1=Object.freeze({__proto__:null,navigator:dfxGdprChecker,session:session,Web pageRenderer:Web pageRenderer,Web pageSnapshot:Web pageSnapshot,begin:begin,registerAdapter:registerAdapter,go to:go to,connectStreamSource:connectStreamSource,disconnectStreamSource:disconnectStreamSource,renderStreamMessage:renderStreamMessage,clearCache:clearCache,setProgressBarDelay:setProgressBarDelay,setConfirmMethod:setConfirmMethod});class SnapshotSubstitution{constructor(factor){this.visitCachedSnapshot=({factor:element2})=>{var{id:_a,clone}=this;null!==(_a=element2.querySelector("https://www.dailyfx.com/forex/technical/article/fx_technical_weekly/2022/03/19/#"+_a))&&void 0!==_a&&_a.changeWith(clone)},this.clone=factor.cloneNode(!0),this.id=factor.id}}perform getFrameElementById(factor){if(null!=factor){factor=doc.getElementById(factor);if(factor instanceof FrameElement)return factor}}perform activateElement(factor,currentURL){if(factor){var src=factor.getAttribute("src");if(null!=src&&null!=currentURL&&perform urlsAreEqual(left,proper){return expandURL(left).href==expandURL(proper).href}(src,currentURL))throw new Error(`Matching factor has a supply URL which references itself`);if((factor=factor.ownerDocument!==doc?doc.importNode(factor,!0):factor)instanceof FrameElement)return factor.connectedCallback(),factor.disconnectedCallback(),factor}}const StreamActions={after(){this.goalElements.forEach(e=>)},append(){this.removeDuplicateTargetChildren(),this.goalElements.forEach(e=>e.append(this.templateContent))},earlier than(){this.goalElements.forEach(e=>void 0===_a?void 0:_a.insertBefore(this.templateContent,e))},prepend(){this.removeDuplicateTargetChildren(),this.goalElements.forEach(e=>e.prepend(this.templateContent))},take away(){this.goalElements.forEach(e=>e.take away())},change(){this.goalElements.forEach(e=>e.changeWith(this.templateContent))},replace(){this.goalElements.forEach(e=>{e.innerHTML="",e.append(this.templateContent)})}};class StreamElement extends HTMLElement{connectedCallback(){return __async$4(this,null,perform*(){strive{yield this.render()}catch(error){console.error(error)}lastly{this.disconnect()}})}render(){return __async$4(this,null,perform*(){var _a;return null!==(_a=this.renderPromise)&&void 0!==_a?_a:this.renderPromise=__async$4(this,null,perform*(){this.dispatchEvent(this.beforeRenderEvent)&&(yield nextAnimationFrame(),this.performAction())})})}disconnect(){strive{this.take away()}catch(_a){}}removeDuplicateTargetChildren(){this.duplicateChildren.forEach(c=>c.take away())}get duplicateChildren()get performAction(){if(this.motion){var actionFunction=StreamActions[this.action];if(actionFunction)return actionFunction;this.increase("unknown motion")}this.increase("motion attribute is lacking")}get goalElements(){return this.goal?this.goalElementsById:this.targets?this.goalElementsByQuery:void this.increase("goal or targets attribute is lacking")}get templateContent(){return this.templateElement.content material.cloneNode(!0)}get templateElement(){if(this.firstElementBaby instanceof HTMLTemplateElement)return this.firstElementBaby;this.increase("first youngster factor have to be a factor")}get motion(){return this.getAttribute("motion")}get goal(){return this.getAttribute("goal")}get targets(){return this.getAttribute("targets")}increase(message){throw new Error(`${this.description}: ${message}`)}get description(){var _b;return null!==(_b=(null!==(_b=this.outerHTML.match(/]+>/))&&void 0!==_b?_b:[])[0])&&void 0!==_b?_b:""}get beforeRenderEvent(){return new CustomizedEvent("turbo:before-stream-render",{bubbles:!0,cancelable:!0})}get goalElementsById()void 0===factor?void 0:factor.getElementById(this.goal);return null!==factor?[element]:[]get goalElementsByQuery()}FrameElement.delegateConstructor=class FrameController{constructor(factor){this.fetchResponseLoaded=fetchResponse=>{},this.currentFetchRequest=null,this.resolveVisitPromise=()=>{},this.related=!1,this.hasBeenLoaded=!1,this.settingSourceURL=!1,this.factor=factor,this.view=new FrameView(this,this.factor),this.appearanceObserver=new AppearanceObserver(this,this.factor),this.linkInterceptor=new LinkInterceptor(this,this.factor),this.formInterceptor=new FormInterceptor(this,this.factor)}join()disconnect(){this.related&&(this.related=!1,this.appearanceObserver.cease(),this.linkInterceptor.cease(),this.formInterceptor.cease())}disabledChanged(){this.loadingStyle==FrameLoadingStyle.keen&&this.loadSourceURL()}sourceURLChanged()this.loadSourceURL()loadingStyleChanged(){this.loadingStyle==FrameLoadingStyle.lazy?this.appearanceObserver.begin():(this.appearanceObserver.cease(),this.loadSourceURL())}loadSourceURL(){return __async$4(this,null,perform*(){if(!this.settingSourceURL&&this.enabled&&this.isActive&&(this.reloadable||this.sourceURL!=this.currentURL)){var previousURL=this.currentURL;if(this.currentURL=this.sourceURL,this.sourceURL)strive{this.factor.loaded=this.go to(expandURL(this.sourceURL)),this.appearanceObserver.cease(),yield this.factor.loaded,this.hasBeenLoaded=!0}catch(error){throw this.currentURL=previousURL,error}}})}loadResponse(fetchResponse){return __async$4(this,null,perform*(){(fetchResponse.redirected||fetchResponse.succeeded&&fetchResponse.isHTML)&&(this.sourceURL=fetchResponse.response.url);strive{var physique,snapshot,renderer,html=yield fetchResponse.responseHTML;html&&({physique:physique}=parseHTMLDocument(html),snapshot=new Snapshot(yield this.extractForeignFrameElement(physique)),renderer=new FrameRenderer(this.view.snapshot,snapshot,!1,!1),this.view.renderPromise&&(yield this.view.renderPromise),yield this.view.render(renderer),session.frameRendered(fetchResponse,this.factor),session.bodyLoaded(this.factor),this.fetchResponseLoaded(fetchResponse))}catch(error){console.error(error),this.view.invalidate()}lastly{this.fetchResponseLoaded=()=>{}}})}elementAppearedInViewport(factor){this.loadSourceURL()}shouldInterceptLinkClick(factor,url){return!factor.hasAttribute("data-turbo-method")&&this.shouldInterceptNavigation(factor)}linkClickIntercepted(factor,url){this.reloadable=!0,this.navigateFrame(factor,url)}shouldInterceptFormSubmission(factor,submitter){return this.shouldInterceptNavigation(factor,submitter)}formSubmissionIntercepted(factor,fetchRequest){this.formSubmission&&this.formSubmission.cease(),this.reloadable=!1,this.formSubmission=new FormSubmission(this,factor,fetchRequest);var{fetchRequest}=this.formSubmission;this.prepareHeadersForRequest(fetchRequest.headers,fetchRequest),this.formSubmission.begin()}prepareHeadersForRequest(headers,request){headers["Turbo-Frame"]=this.id}requestStarted(request){markAsBusy(this.factor)}requestPreventedHandlingResponse(request,response){this.resolveVisitPromise()}requestSucceededWithResponse(request,response){return __async$4(this,null,perform*(){yield this.loadResponse(response),this.resolveVisitPromise()})}requestFailedWithResponse(request,response){console.error(response),this.resolveVisitPromise()}requestErrored(request,error){console.error(error),this.resolveVisitPromise()}requestFinished(request){clearBusyState(this.factor)}formSubmissionStarted({kindElement}){markAsBusy(kindElement,this.discoverFrameElement(kindElement))}formSubmissionSucceededWithResponse(formSubmission,response){const body=this.discoverFrameElement(formSubmission.kindElement,formSubmission.submitter);this.suggestVisitIfNavigatedWithMotion(body,formSubmission.kindElement,formSubmission.submitter),body.delegate.loadResponse(response)}formSubmissionFailedWithResponse(formSubmission,fetchResponse){this.factor.delegate.loadResponse(fetchResponse)}formSubmissionErrored(formSubmission,error){console.error(error)}formSubmissionFinished({kindElement}){clearBusyState(kindElement,this.discoverFrameElement(kindElement))}allowsImmediateRender(snapshot,resume){return!0}viewRenderedSnapshot(snapshot,isPreview){}viewInvalidated(){}go to(url){return __async$4(this,null,perform*(){var _a;const request=new FetchRequest(this,FetchMethod.get,url,new URLSearchParams,this.factor);return null!==(_a=this.currentFetchRequest)&&void 0!==_a&&_a.cancel(),this.currentFetchRequest=request,new Promise(resolve=>{this.resolveVisitPromise=()=>{this.resolveVisitPromise=()=>{},this.currentFetchRequest=null,resolve()},request.carry out()})})}navigateFrame(factor,url,submitter){const body=this.discoverFrameElement(factor,submitter);this.suggestVisitIfNavigatedWithMotion(body,factor,submitter),body.setAttribute("reloadable",""),body.src=url}suggestVisitIfNavigatedWithMotion(body,factor,submitter){const motion=getAttribute("data-turbo-action",submitter,factor,body);if(isAction(motion)){const{visitCachedSnapshot}=new SnapshotSubstitution(body);body.delegate.fetchResponseLoaded=response=>{var statusCode;body.src&&({statusCode:statusCode,redirected:response}=response,response={statusCode:statusCode,redirected:response,responseHTML:body.ownerDocument.docElement.outerHTML},session.go to(body.src,{motion:motion,response:response,visitCachedSnapshot:visitCachedSnapshot,willRender:!1}))}}}discoverFrameElement(_a,submitter)extractForeignFrameElement(container){return __async$4(this,null,perform*(){let factor;var id=CSS.escape(this.id);strive{if(factor=activateElement(container.querySelector(`turbo-frame#${id}`),this.currentURL))return factor;if(factor=activateElement(container.querySelector(`turbo-frame[src][recurse~=${id}]`),this.currentURL))return yield factor.loaded,yield this.extractForeignFrameElement(factor);console.error(`Response has no matching factor`)}catch(error){console.error(error)}return new FrameElement})}formActionIsVisitin a position(kind,submitter){return locationIsVisitin a position(expandURL(getAction(kind,submitter)),this.rootLocation)}shouldInterceptNavigation(factor,submitter){var bodyElement=getAttribute("data-turbo-frame",submitter,factor)||this.factor.getAttribute("goal");if(factor instanceof HTMLFormElement&&!this.formActionIsVisitin a position(factor,submitter))return!1;if(!this.enabled||"_top"==bodyElement)return!1;if(bodyElement){bodyElement=getFrameElementById(bodyElement);if(bodyElement)return!bodyElement.disabled}return!!session.elementDriveEnabled(factor)&&!(submitter&&!session.elementDriveEnabled(submitter))}get id(){return this.factor.id}get enabled(){return!this.factor.disabled}get sourceURL(){if(this.factor.src)return this.factor.src}get reloadable(){const body=this.discoverFrameElement(this.factor);return body.hasAttribute("reloadable")}set reloadable(worth){const body=this.discoverFrameElement(this.factor);worth?body.setAttribute("reloadable",""):body.removeAttribute("reloadable")}set sourceURL(sourceURL){this.settingSourceURL=!0,this.factor.src=null!=sourceURL?sourceURL:null,this.currentURL=this.factor.src,this.settingSourceURL=!1}get loadingStyle(){return this.factor.loading}get isLoading()get isActive(){return this.factor.isActive&&this.related}get rootLocation(){var _a=this.factor.ownerDocument.querySelector('meta[name="turbo-root"]');return expandURL(null!==(_a=null==_a?void 0:_a.content material)&&void 0!==_a?_a:"/")}},customizedElements.outline("turbo-frame",FrameElement),customizedElements.outline("turbo-stream",StreamElement),(()=>{let factor=doc.currentScript;if(factor&&!factor.hasAttribute("data-turbo-suppress-warning"))for(;factor=factor.father or motherElement;)if(factor==doc.physique)return console.warn(unindent`
You are loading Turbo from a factor contained in the factor. This might be not what you meant to do!
Load your software's JavaScript bundle contained in the factor as an alternative. components in are evaluated with every web page change.
For extra data, see: https://turbo.hotwired.dev/handbook/building#working-with-script-elements
——
Suppress this warning by including a "data-turbo-suppress-warning" attribute to: %s
`,factor.outerHTML)})(),window.Turbo=Turbo$1,begin();Turbo$1=Object.freeze({__proto__:null,Web pageRenderer:Web pageRenderer,Web pageSnapshot:Web pageSnapshot,clearCache:clearCache,connectStreamSource:connectStreamSource,disconnectStreamSource:disconnectStreamSource,navigator:dfxGdprChecker,registerAdapter:registerAdapter,renderStreamMessage:renderStreamMessage,session:session,setConfirmMethod:setConfirmMethod,setProgressBarDelay:setProgressBarDelay,begin:begin,go to:go to});perform createSingleton(removeOnTurboVisit=!1){return perform(goal,identify,descriptor){const authentic=descriptor.worth;return descriptor.worth=(…outcome)=>{var _a;window.DFX_SINGLETONS=null!=(_a=window.DFX_SINGLETONS)?_a:{};const instanceId=`${goal.prototype.constructor.identify}:${identify}`;if(removeOnTurboVisit){const turboCallback=()=>{window.DFX_SINGLETONS[instanceId]&&(window.DFX_SINGLETONS[instanceId]=null),doc.take awayEventListener("turbo:go to",turboCallback)};doc.addEventListener("turbo:go to",turboCallback)}if(window.DFX_SINGLETONS[instanceId])return window.DFX_SINGLETONS[instanceId];outcome=authentic.apply(this,outcome);return Object.defineProperty(window.DFX_SINGLETONS,instanceId,{worth:outcome,writable:!0}),outcome},descriptor}}class DfxLocalStorageCookieManager{constructor(localStorage){this.localStorage=localStorage,this.localStorage=localStorage;strive{this.localStorage.setItem("check","check"),this.localStorage.take awayItem("check"),this.isLocalStorageAvailable=!0}catch(e){this.isLocalStorageAvailable=!1}}getCookie(matches){if(matches){matches=doc.cookie.match(new RegExp(`(?:^|; )${matches.change(/([.$?*|{}()[]/+^])/g,"$1″)}=([^;]*)`));return matches?decodeURIComponent(matches[1]):void 0}}setCookie(identify,worth,expires,area,safe=!0){let cookieString=`${identify}=${worth}`;"string"==typeof expires&&(cookieString+=`;expires=${expires}`),"string"==typeof area&&(cookieString+=`;area=${area}`),cookieString+="; path=/",safe&&"https:"===location.protocol&&(cookieString+="; safe"),doc.cookie=cookieString}deleteCookie(identify){this.setCookie(identify,"","Thu, 01 Jan 1970 00:00:00 UTC")}getLocalStorageOrCookie(identify){var _a;return this.isLocalStorageAvailable&&null!=(_a=this.localStorage.getItem(identify))?_a:this.getCookie(identify)}setLocalStorageOrCookie(identify,worth,expires,area){this.isLocalStorageAvailable?this.localStorage.setItem(identify,worth):this.setCookie(identify,worth,expires,area)}deleteLocalStorageOrCookie(identify){this.isLocalStorageAvailable?this.localStorage.take awayItem(identify):this.deleteCookie(identify)}}var __defProp$5=Object.defineProperty,__getOwnPropDesc$5=Object.getOwnPropertyDescriptor;class DfxLocalStorageCookieManagerFactory{static create(){return new DfxLocalStorageCookieManager(window.localStorage)}}((decorators,goal,key,sort)=>{for(var decorator,outcome=1<sort?void 0:sort?__getOwnPropDesc$5(goal,key):goal,i=decorators.length-1;0=stage}normalizeValue(worth){let intValue=parseInt(worth);return isNaN(intValue)&&(intValue=3),intValue}}var __defProp$4=Object.defineProperty,__getOwnPropDesc$4=Object.getOwnPropertyDescriptor;class DfxGdprCheckerFactory{static create(){return new DfxGdprChecker(DfxLocalStorageCookieManagerFactory.create())}}((decorators,goal,key,sort)=>{for(var decorator,outcome=1<sort?void 0:sort?__getOwnPropDesc$4(goal,key):goal,i=decorators.length-1;0new Promise((resolve,reject)=>{var fulfilled=worth=>{strive{step(generator.subsequent(worth))}catch(e){reject(e)}},rejected=worth=>{strive{step(generator.throw(worth))}catch(e){reject(e)}},step=x=>x.executed?resolve(x.worth):Promise.resolve(x.worth).then(fulfilled,rejected);step((generator=generator.apply(__this,__arguments)).subsequent())});const COUNTRIES_TO_REPLACE_MAP=new Map([["GB","UK"]]);class DfxGeoLocation{constructor(geoJsUrl,dfxLocalStorageCookieManager){this.geoJsUrl=geoJsUrl,this.dfxLocalStorageCookieManager=dfxLocalStorageCookieManager}init(){return __async$3(this,null,perform*(){const redirectData=yield this.getRedirectData();COUNTRIES_TO_REPLACE_MAP.has(redirectData.nation)&&(redirectData.nation=COUNTRIES_TO_REPLACE_MAP.get(redirectData.nation)),this.redirectData=redirectData,this.setBodyClasses().setLocationToStorage()})}getRedirectData(){return __async$3(this,null,perform*(){if(this.redirectData)return this.redirectData;var redirectData=this.getLocationFromStorage();return redirectData?(this.redirectData=redirectData,this.redirectData):this.loadRedirectData()})}loadRedirectData(){return new Promise(resolve=>{const script=doc.createElement("script");script.onload=()=>{this.redirectData=window.redirectData,resolve(this.redirectData)},script.setAttribute("src",this.geoJsUrl),doc.head.appendChild(script)})}setBodyClasses(){const countryCode=this.redirectData.nation.toLowerCase();return doc.physique?(doc.physique.classList.take away("dfx-country-pending"),doc.physique.classList.add(`dfx-country-${countryCode}`)):doc.addEventListener("DOMContentLoaded",()=>{doc.physique.classList.take away("dfx-country-pending"),doc.physique.classList.add(`dfx-country-${countryCode}`)},!1),this}getLocationFromStorage(){var _a=this.dfxLocalStorageCookieManager.getLocalStorageOrCookie("dfx-redirectData_expiresIn");return!!(_a&&parseInt(_a)>Date.now())&&JSON.parse(null!=(_a=this.dfxLocalStorageCookieManager.getLocalStorageOrCookie("dfx-redirectData"))?_a:"false")}setLocationToStorage(){const date=new Date;return date.setTime(date.getTime()+6048e5),this.dfxLocalStorageCookieManager.setLocalStorageOrCookie("dfx-redirectData",JSON.stringify(this.redirectData),date.toUTCString()),this.dfxLocalStorageCookieManager.setLocalStorageOrCookie("dfx-redirectData_expiresIn",`${date.getTime()}`,date.toUTCString()),this}}var __defProp$3=Object.defineProperty,__getOwnPropDesc$3=Object.getOwnPropertyDescriptor;class DfxGeoLocationFactory{static create(){return new DfxGeoLocation(window.DFX_ENDPOINTS.geoJs,DfxLocalStorageCookieManagerFactory.create())}}((decorators,goal,key,sort)=>{for(var decorator,outcome=1<sort?void 0:sort?__getOwnPropDesc$3(goal,key):goal,i=decorators.length-1;0el.src.consists of(config.reportSuite)).take away(),this.adobeTrackingState=STATES.OFF,this._resetAssetClasses()._resetInstruments()._resetCategories()._resetSitecatConfig()),doc.addEventListener("turbo:before-render",occasion=>{this.dfxAdobeTracking&&this.dfxAdobeTracking.refreshIframe(occasion.element.newBody)})}_setDefaultStates(){return this.adobeTrackingState=STATES.OFF,this.baiduState=STATES.OFF,this.pixelState=STATES.OFF,this.gptState=STATES.OFF,this.gtmState=STATES.OFF,this.taboolaState=STATES.OFF,this}_resetInstruments(){return this.gptInstrumentPairs=new Set,this}_resetCategories(){return this.gptCategories={class:"",subCategory:""},this}_resetAssetClasses(){return this.gptAssetClasses=new Set,this}_resetSitecatConfig(){return this.sitecatConfig={mainReportSuite:this.config.mainReportSuite,reportSuite:this.config.reportSuite,organisationId:this.config.organisationId},this}createAdobeTracking(adobeTrackingUrl){return __this=this,__arguments=null,generator=perform*(){if(this.dfxGdprChecker.checkLevel(2)&&this.allowedTrackingsConfig[TRACKINGS.ADOBE_TRACKING]&&this.adobeTrackingState===STATES.OFF){this.adobeTrackingState=STATES.LOADING;const{DfxAdobeTracking}=yield window.System.import(adobeTrackingUrl);this.dfxAdobeTracking=new DfxAdobeTracking(this.sitecatConfig,this.dfxGdprChecker,this.dfxLocalStorageCookieManager),this.adobeTrackingState=STATES.READY,this.runAdobeTracking()}},new Promise((resolve,reject)=>{var fulfilled=worth=>{strive{step(generator.subsequent(worth))}catch(e){reject(e)}},rejected=worth=>{strive{step(generator.throw(worth))}catch(e){reject(e)}},step=x=>x.executed?resolve(x.worth):Promise.resolve(x.worth).then(fulfilled,rejected);step((generator=generator.apply(__this,__arguments)).subsequent())});var __this,__arguments,generator}runAdobeTracking(){this.dfxGdprChecker.checkLevel(2)&&(this.adobeTrackingState===STATES.READY?(this.dfxAdobeTracking.resetTrackingObject(),this.dfxAdobeTracking.init()):setTimeout(()=>this.runAdobeTracking(),400))}trackAdobeEvent(eventName,message,metrics){return this.dfxGdprChecker.checkLevel(2)&&this.allowedTrackingsConfig[TRACKINGS.ADOBE_TRACKING]&&(this.adobeTrackingState===STATES.READY?this.dfxAdobeTracking.observeEvent(eventName,message,metrics):setTimeout(()=>this.trackAdobeEvent(eventName,message,metrics),400)),this}getPageNameForAdobeTracking(){return this.adobeTrackingState===STATES.READY&&this.dfxAdobeTracking.getPageName()}addSitecatConfig(key,worth){return this.dfxGdprChecker.checkLevel(2)&&(this.sitecatConfig[key]=worth),this}createFacebookPixel(){if(!this.dfxGdprChecker.checkLevel(3))return this;if(!this.allowedTrackingsConfig[TRACKINGS.FACEBOOK_PIXEL]||this.pixelState!==STATES.OFF)return this;this.pixelState=STATES.LOADING;var loadCallback,b,n,t,s;return loadCallback=()=>{this.pixelState=STATES.READY},t=window,b=doc,s="script",t.fbq||(n=t.fbq=perform(){n.callMethod?n.callMethod.apply(n,arguments):n.queue.push(arguments)},t._fbq||(t._fbq=n),(n.push=n).loaded=!0,n.model="2.0″,n.queue=[],(t=b.createElement(s)).async=!0,t.onload=loadCallback,t.src="https://connect.facebook.net/en_US/fbevents.js",(s=b.getElementsByTagName(s)[0]).parentNode.insertBefore(t,s)),this.fbq=window.fbq,this.fbq("init",this.facebookPixelId),this}facebookPixelTrack(type){return this.dfxGdprChecker.checkLevel(3)&&this.allowedTrackingsConfig[TRACKINGS.FACEBOOK_PIXEL]&&(this.pixelState===STATES.OFF&&this.createFacebookPixel(),this.fbq("observe",sort)),this}facebookPixelTrackPageView(){return this.dfxGdprChecker.checkLevel(3)&&this.facebookPixelTrack("Web pageView"),this}facebookPixelTrackLead(){return this.dfxGdprChecker.checkLevel(3)&&this.facebookPixelTrack("Lead"),this}createGTM(){if(!this.dfxGdprChecker.checkLevel(1))return this;if(!this.allowedTrackingsConfig[TRACKINGS.GTM]||this.gtmState!==STATES.OFF)return this;this.gtmState=STATES.LOADING;const scriptOnload=()=>{this.gtmState=STATES.READY};return perform(w,d,s,l,i,p){w[l]=w[l]||[],w[l].push({"gtm.begin":(new Date).getTime(),occasion:"gtm.js"});const f=d.getElementsByTagName(s)[0],j=d.createElement(s);j.async=!0,j.src="https://www.googletagmanager.com/gtm.js?id="+i+p,j.onload=scriptOnload,f.parentNode.insertBefore(j,f)}(window,document,"script","dataLayer",this.tagManagerId,this.tagManagerParams),this}createGPT(){if(!this.dfxGdprChecker.checkLevel(1))return this;if(!this.allowedTrackingsConfig[TRACKINGS.GPT]||this.gptState!==STATES.OFF)return this;this.gptState=STATES.LOADING;const scriptOnload=()=>{this.gptState=STATES.READY};var googletag=window.googletag||{cmd:[]};return perform(){const gads=doc.createElement("script");gads.async=!0,gads.sort="textual content/javascript";var useSSL="https:"===doc.location.protocol;gads.src=(useSSL?"https:":"http:")+"//www.googletagservices.com/tag/js/gpt.js",gads.onload=scriptOnload;const node=doc.getElementsByTagName("script")[0];node.father or motherNode.insertBefore(gads,node)}(),window.googletag=window.googletag||googletag,this}trackGTMpageLoadEvent(){return this.dfxGdprChecker.checkLevel(1)&&(window.dataLayer=window.dataLayer||[],window.dataLayer.push({occasion:"turboPageView",virtualUrl:window.location.pathname})),this}createBaiduTracking(){return this.dfxGdprChecker.checkLevel(2)&&this.allowedTrackingsConfig[TRACKINGS.BAIDU]&&this.baiduState!==STATES.READY&&(perform(){const hm=doc.createElement("script");hm.src="https://hm.baidu.com/hm.js?961aa7f85d30d676f24a6f928c035b90″;const s=doc.getElementsByTagName("script")[0];s.father or motherNode.insertBefore(hm,s)}(),perform(){const bp=doc.createElement("script");var curProtocol=window.location.protocol.break up(":")[0];bp.src="https"===curProtocol?"https://zz.bdstatic.com/linksubmit/push.js":"http://push.zhanzhang.baidu.com/push.js";const s=doc.getElementsByTagName("script")[0];s.father or motherNode.insertBefore(bp,s)}(),this.baiduState=STATES.READY),this}addGptAssetClasses(assetClasses){if(!Array.isArray(assetClasses))throw new TypeError("Param assetClasses have to be an Array");return assetClasses.forEach(assetClass=>this.gptAssetClasses.add(assetClass)),this}addGptInstrumentPairs(pairs){if(!Array.isArray(pairs))throw new TypeError("Param pairs have to be an Array");return pairs.forEach(assetClass=>this.gptInstrumentPairs.add(assetClass)),this}addGptCategories(class="",subCategory=""){this.gptCategories={class:class,subCategory:subCategory}}getGptAssetClasses(){return this.gptAssetClasses}getGptInstrumentPairs(){return this.gptInstrumentPairs}getGptCategory(){return this.gptCategories.class}getGptSubCategory(){return this.gptCategories.subCategory}createTaboolaPixel(){if(!this.dfxGdprChecker.checkLevel(3))return this;if(!this.allowedTrackingsConfig[TRACKINGS.TABOOLA_PIXEL]||this.taboolaState!==STATES.OFF)return this;this.taboolaState=STATES.LOADING;const scriptOnload=()=>{this.taboolaState=STATES.READY};var t,f,x;return window._tfa=window._tfa||[],window._tfa.push({notify:"occasion",identify:"page_view",id:this.taboolaPixelId}),this.tfa=window._tfa,t=doc.createElement("script"),f=doc.getElementsByTagName("script")[0],x="tb_tfa_script",doc.getElementById(x)||(t.async=1,t.src="https://cdn.taboola.com/libtrc/unip/1350268/tfa.js",t.id=x,t.onload=scriptOnload,f.parentNode.insertBefore(t,f)),this}taboolaPixelTrack(eventName){return this.dfxGdprChecker.checkLevel(3)&&this.allowedTrackingsConfig[TRACKINGS.TABOOLA_PIXEL]&&(this.pixelState===STATES.OFF&&this.createTaboolaPixel(),this.tfa.push({notify:"occasion",identify:eventName,id:this.taboolaPixelId})),this}}class DfxConfig{constructor(config){this.config=config}get(key){return this.config.get(key)}set(key,worth)}var __defProp$2=Object.defineProperty,__getOwnPropDesc$2=Object.getOwnPropertyDescriptor;class DfxConfigFactory{static create(){var knowledge=Object.assign({},window.DFX_CONFIG,window.DFX_ENDPOINTS),knowledge=new Map(Object.entries(knowledge));return new DfxConfig(knowledge)}}((decorators,goal,key,sort)=>{for(var decorator,outcome=1<sort?void 0:sort?__getOwnPropDesc$2(goal,key):goal,i=decorators.length-1;0{for(var decorator,outcome=1<sort?void 0:sort?__getOwnPropDesc$1(goal,key):goal,i=decorators.length-1;0{var fulfilled=worth=>{strive{step(generator.subsequent(worth))}catch(e){reject(e)}},rejected=worth=>{strive{step(generator.throw(worth))}catch(e){reject(e)}},step=x=>x.executed?resolve(x.worth):Promise.resolve(x.worth).then(fulfilled,rejected);step((generator=generator.apply(__this,__arguments)).subsequent())});var __this,__arguments,generator}}var __defProp=Object.defineProperty,__getOwnPropDesc=Object.getOwnPropertyDescriptor;class DfxFontsFactory{static create(){return new DfxFonts(doc)}}((decorators,goal,key,sort)=>{for(var decorator,outcome=1<sort?void 0:sort?__getOwnPropDesc(goal,key):goal,i=decorators.length-1;0((__this,__arguments,generator)=>new Promise((resolve,reject)=>{var fulfilled=worth=>{strive{step(generator.subsequent(worth))}catch(e){reject(e)}},rejected=worth=>{strive{step(generator.throw(worth))}catch(e){reject(e)}},step=x=>x.executed?resolve(x.worth):Promise.resolve(x.worth).then(fulfilled,rejected);step((generator=generator.apply(__this,__arguments)).subsequent())}))(window,null,perform*(){strive{const noscript=doc.querySelector("noscript.jsdfx-script");if(!noscript)return;const imports=yield window.System.import(noscript.getAttribute("data-src"));Object.keys(imports).forEach(key=>{window[key]=imports[key]}),window.runStacked()}catch(error){console.error(error)}});doc.addEventListener("turbo:load",()=>loadScripts()),window.efficiency.mark=window.efficiency.mark||perform(){},window.efficiency.measure=window.efficiency.measure||perform(){},window.turbo=Turbo$1,begin(),DfxGeoLocationFactory.create().init(),exports.DfxGdprChecker=dfxGdprChecker,exports.DfxGdprCheckerFactory=DfxGdprCheckerFactory,exports.DfxGeoLocationFactory=DfxGeoLocationFactory,exports.DfxThirdPartyManagerFactory=DfxThirdPartyManagerFactory,Object.defineProperty(exports,"__esModule",{worth:!0})}(this.window=this.window||{});
[ad_2]

Source hyperlink